FauxWoodBeams.com customer Tom used Hand Hewn beams to augment the ceiling of his industrial chic home.
Industrial style is something that's quite popular these days - with trendy lofts and apartments exposing vents, ducts and pipes for a hip, urban look.
Timber meets Industrial, with Tom's ceiling project. This project photo was sent into us by customer Tom McMurray from Texas, who wanted to add something to break up the look of his massive, 40-feet ceiling. But as you can see from the pictures, Tom's ceiling wasn't a cookie-cutter build. The metal railings and exposed air conditioning ducts demonstrated a rugged, industrial style that presented some interesting opportunities to an innovative thinker like Tom. Some people might think that this type of aesthetic wouldn't lend itself to wood style beams, but right from the get-go, Tom knew that dark wood would match. He ordered two of our
Custom Hand Hewn Beams in a dark and rich Dark Walnut color
, and the vivid realism lent itself perfectly to his vision. "They go perfectly with the cabinets and hardwood floors," he explained in the email accompanying the picture. Next came installation, and that was the second challenge. Tom wanted the beams to resemble real exposed timbers, and that meant they had to fit flush with the angled ceiling. However, as you can see from the photo, a large duct ran across the length of the ceiling, and the beams needed to be installed in the narrow space between that duct and the ceiling itself. By taking careful measurements, Tom was able to order the exact size beam to fit snugly between the ceiling and duct, while also keeping the dark, chunky timber aesthetic he was going for. Our beams can be ordered in a variety of widths and heights, and this turned out to be ideal for the challenges installation presented.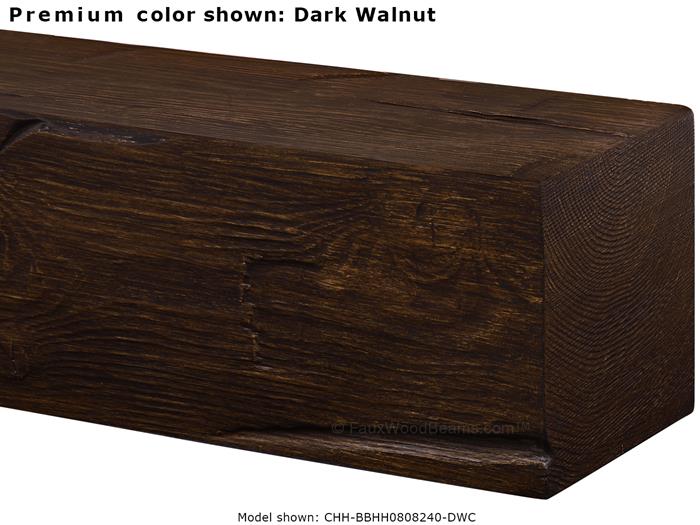 The next challenge was where the two beams met at the apex of the ceiling. Tom mitered the two beams to fit flush, and was able to cut them at an angle with a regular wood saw. Slotted together, the join was practically seamless - and given that the duct obscured the view, it was even more difficult to tell where one beam ended and the next one began. The final step was the actual installation itself - which from that point on was straightforward. Tom drilled mounting blocks into the ceiling studs, and slotted the hollow, u-shaped beams right over them. The beams fit flush with the ceiling and met each other at a perfectly pre-cut angle, and all it took to secure them were regular wood screws. In a matter of minutes, the beams were installed - and the ceiling was transformed. "The beams turned out beautifully," Tom writes in his email - and we couldn't agree more. We love this simple, elegant installation - even more so because it defies expectations in pairing the look of hand hewn wood with industrialized chic.