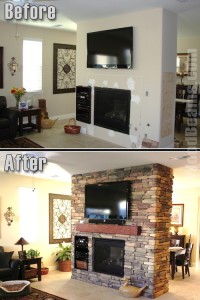 BEFORE and AFTER - Faux Stone Panels and a Faux Wood Mantel make an awesome double-hitter
Steve and Leslie D. paired one of our Tuscany Mantel beams with panels from our sister site, FauxPanels.com™, to create this stunning fireplace project.
Synthetic Tuscany Fireplace Mantle
Steve and Leslie, from Annapolis, MD, faced a challenge when it to decorating their new home. Part of the design included a beautiful fireplace and chimney, separating the living room from the dining area - but the bare drywall finish left it looking drab and unexciting.
Fortunately, Leslie was handy with Google - and using the power of the Internet she found what turned out to be the ideal solution.
Oxford Ledgestone Faux Stone Panels helped give the drywall the instant appearance of intricately-detailed, hand-laid stone walls. Made from tough and durable polyurethane foam, Steve and Leslie could simply attach the panels to the existing wall with regular construction adhesive and screws, and cut the rest of the paneling to size with a regular wood saw for a totally seamless, vividly realistic appearance.
For the finishing touch, they headed to FauxWoodBeams.com™ for a Tuscany Mantel to bring their faux stone fireplace to life: And Steve and Leslie were clearly happy with the result. Here's what Leslie wrote to tell us:
"Oh my goodness! What a beautiful product! Friends, family and neighbors cannot believe our fireplace mantle is a faux beam mantle. Thank you, thank you, thank you for the wonderful service, selection, options and beautiful product! It has far exceeded our expectations, simplified the installation process and came in at about two thirds the cost of a real wood beam - and without the problems associated with real wood!"
And Steve added: "What a great experience. My wife and I are extremely happy customers and will definitely continue to recommend Fauxwoodbeams.com to any and all who see and ask about our beautiful mantle. Just look at the attached before and after photos- Unbelievable!"
Manufactured from polyurethane foam, the Tuscany Mantel is molded from a real Tuscan mantel beam; and the painstakingly exact molding process has captured every grain, knot and saw mark perfectly. Finished using incredibly vivid colors that perfectly match the hue of real wood, the finished beam is practically indistinguishable from the real thing - except is lightweight, easy to install and a fraction of the cost of using real timber.
We think the faux wood mantel and faux stone panel combo works great together - what do you think? Let us know in the comments below.