Our panels are always a great option for professional trade show exhibit - as Hydromassage, of Clearwater, Florida, demonstrates here!
Hydromassage's Portable Trade Show Setup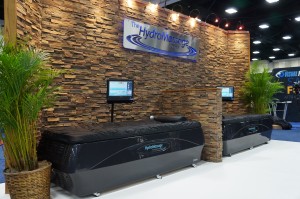 The Hydromassage trade show exhibit: light, easy to transport and looks amazing.
One of the great advantages of our products is their realistic look and texture of stone, at a fraction of the cost and in a lightweight, manageable format.
That's why they're always a popular option for companies looking to build striking, but lightweight and portable trade show booths.
Recently, Kevin Conaway of Florida-based company Hydromassage sent us pictures of his new booth; and we love what he's done with it.
Kevin's company makes innovative massage devices that have been used by health clubs, spas and chiropractors for over twenty years. By adding Wellington Drystack panels to the back wall of his exhibit, he's managed to produce a spa-like atmosphere that adds a little soothing energy even in packed consumer spaces like the IHRSA trade show in San Diego.
Another view of the gorgeous display.
What makes the panels so useful is how they can be installed directly onto the rigging that Kevin uses to assemble the floor display; installing onto flat surfaces with nothing more than regular construction adhesive. The panels also slot together seamlessly; for a perfect texture and seamless design that can be disassembled and broken down as the booth travels from show-to-show.
The panels can also be cut to size with a regular wood saw; and that meant it was easy for Kevin to cut holes for power lines and other functional details.
The results are clearly impressive; and what continues to impress us is how creative and inspired people like Kevin are in the way they find new uses for our products, and bring their ideas vividly to life.
We're always excited to see more designs and photos; if you've got your own ready to share, send them to info@fauxpanels.com.