Last week, we announced the release of a new series of Real Wood Corbels - stunning products made from high-quality western Red Cedar and handcrafted to resemble our matching series of Real Wood beams. Today, we're going to look at how to use corbels in your interior design.
Although there are a multitude of ways you can use our faux and real wood beams and accessories, the most common one is to add the look of structural timber to your home; installing beams on your ceiling, for example, to make it look as if you've really exposed the beams that held the ceiling aloft.
With this goal in mind, it's vitally important to research how real timber beams were used in home constructions, so when you install your own they look 'right.' Most of us don't have a degree in architecture, but almost everybody knows - sometimes not even sure how they know - what a ceiling beam should look like.
The same is true for corbels - accessories we offer that resemble the structural supports common in many timber-framed buildings. Our corbels are purely decorative - slotting over mounting blocks or installing directly onto the beams themselves.
(Interestingly enough, decorative corbels aren't even called 'corbels'. The architectural term for them is 'consoles.')
As we've mentioned above, corbels were originally used to add structural support to beams - and if you want to make the placement of your corbels look authentic, it's worth studying how the real things would be used. Here are a couple of examples:
Ceiling Beams
Structural timbers stretch across an entire ceiling and support the weight of subsequent floors or a roof on top of them. This can add up to immense pressure - and traditional construction techniques led to 'weak points' for timber beams, where the entire crushing pressure was focused on a small, single section of the beam. This was dangerous, as it could easily lead to the beam snapping or breaking.
The danger comes from simple physics - the more focused the point of pressure, the more dangerous it becomes. For example, a regular man could probably happily allow a regular woman to stand barefoot on his back - but if she was wearing high heels or stilettos, it would be immensely painful.
Corbels were introduced as a way to distribute that weight and pressure. They were shortly lengths of wood - which inherently possessed greater structural integrity - and they buffered the point of pressure before it reached the beam - spreading thousands of pounds of pressure over a surface-area twice or three times the length of the support.
This illustration demonstrates what I mean:
Structural corbels distribute weight to make a ceiling more secure.
In modern homes, corbels aren't needed to support ceilings - but if you want to use them for your faux wood beams or real wood beams, you want to consider how they would have been used if the ceiling truly was supported by the beam. Install your decorative corbels to make it appear as if they're extending from the ceiling itself - and an integral part of the structure itself.
This corbel was designed to look like it was jutting out of the wall itself; and supporting the beam it was attached to.
Mantels
A second common use for corbels was to support timber where no structural point existed - very commonly in fireplace mantels, for example.
A fireplace mantel was traditionally a length of timber that ran flush with the wall - and therefore had to be attached to the wall from the side. This was difficult - especially when using a heavy length of timber. This viral picture from the internet shows that installing a heavy mantel can often have disastrous consequences if it's not done properly.
This is where corbels were originally used.
As you can see from this illustration, authentic corbels extended from inside walls to offer structural support for mantels almost like a shelf - distributing the weight and offering immense strength and integrity.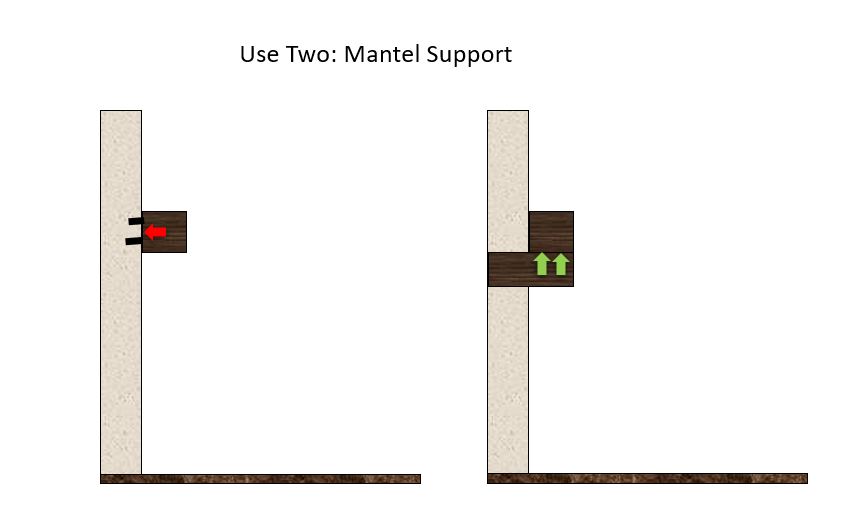 Fireplace corbels support the weight of heavy mantels.
If you're in the market for a mantel, our faux wood versions have the advantage of being made from lightweight and durable polyurethane rather than solid timber, so they can be secured to a fireplace with little more than construction adhesive and screws. This means, unlike traditional mantels, you don't need to add reinforcing corbels.
However, when installing your mantel, you want to consider if it seems right that a heavy-looking beam like that would be installed in such a manner. As with ceiling beams, you don't need to have a degree in architecture to look at a faux mantel and think: There's something off about a heavy beam just sitting flush with the wall like that.
This is why our corbels accessories are a frequent pairing with our mantels - offering a highly realistic detail.
This before and after picture demonstrates decorative corbels might not be structurally essential, but they do make the finished fireplace look more realistic.
Think Structural
These examples should hopefully demonstrate how you can use corbels as a powerful and elegant addition to your beam or mantel project. Taking the time to research real structural timber architecture can help add a level of vivid realism to your installation.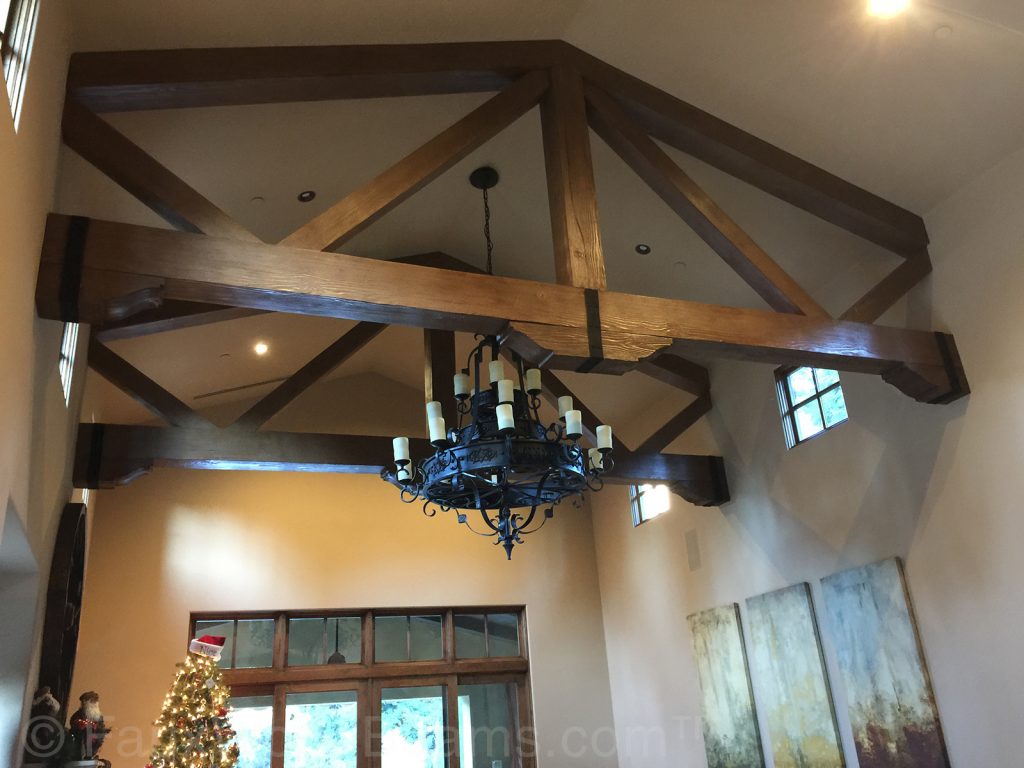 Corbels and accessory beam straps compete the look of these elegant trusses.