FauxWoodBeams.com customer Steve demonstrates how to update a fireplace to a more modern style.
There are some design trends best retired to the history books - and cheap wood paneling is generally considered one of them. A staple of post-war design, this type of paneling today gives most people flashbacks to their grandparent's basement - and it's definitely not a leading trend any more.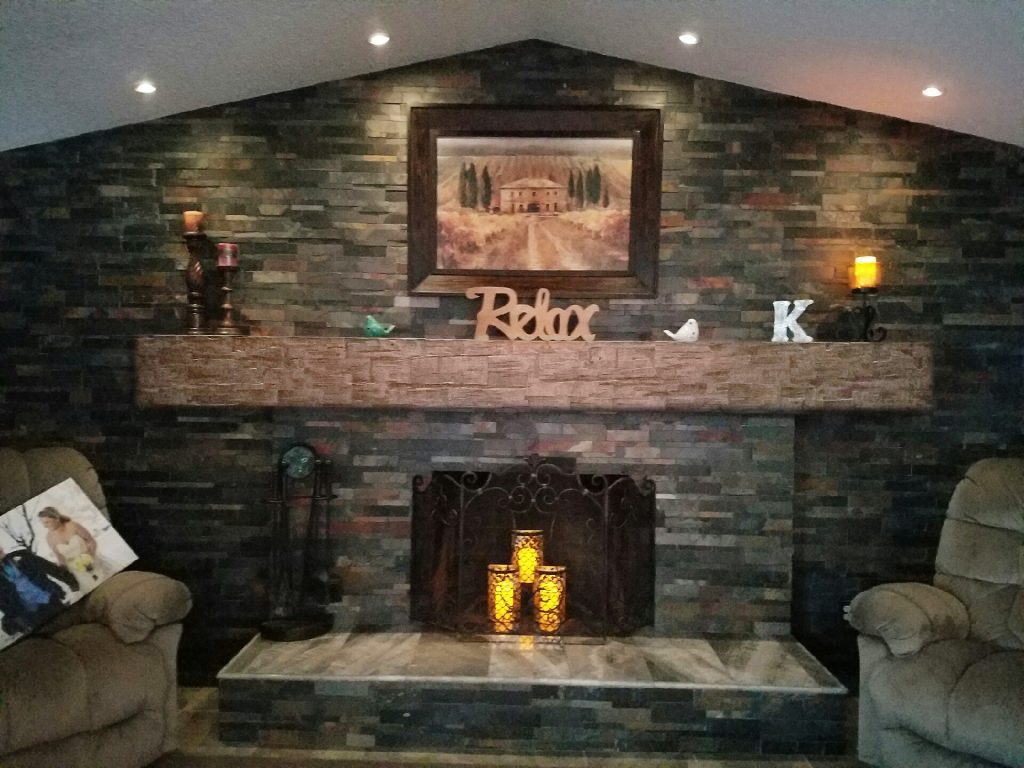 AFTER: The combination of the new mantel and the wall updated this fireplace from dated to dazzling. That's certainly what Steve felt, when he moved into his Nevada home. A magnificent stone fireplace in the living room was spoiled by an entire accent wall covered with wooden panels; and his new home looked more like a set from Mad Men than the desirable and cozy home he was looking for. Fortunately Steve found a two-step solution with FauxWoodBeams.com, and our sister site,
FauxPanels.com
. After tearing down the original panels, Steve covered the entire wall with stone veneer - instantly upgrading the look and turning kitsch into class. The great thing about doing this was that the project itself was as affordable and easy to install as those retro wooden panels had been. The panels he ordered installed directly onto the wall, and could easily be cut to size with a regular wood saw.
BEFORE: The living room was 100%, classic most-modern kitsch. The finishing touch, though, was adding a mantel. There's simply nothing quite like a real timber mantel over a roaring log fire - but sourcing and installing a massive length of timber is actually expensive and impractical. Instead, Steve selected our Hand Hewn beam and used it to create a mantel. The beam mounted on blocks screwed into the wall, and once installed was sturdy and robust enough to put trinkets, pictures and ornaments on. More importantly than that, though, it looks
amazing
. This style of beam is molded from authentic hand hewn wood; and strikingly recreates every grain and imperfection. Even close up, it's difficult to tell that this mantel isn't a real length of timber, painstakingly hand-crafted by lumber artisans. Together, the panels and the mantel complement each other perfectly - and transformed Steve's room from cheesy, dated kitsch to a timeless, cozy look that any homeowner would be proud of.
PRODUCTS USED IN THIS PROJECT