If you are using lightweight faux beams for an installation that requires quick assembly or disassembly, magnets may be the answer. This how-to hack could be beneficial for trade show booths, stage sets, seasonal displays - as well as at home.
Last week we showcased a fantastic project from the Newmar Corporation. They created a stunningly realistic trade show display using our faux wood and faux stone products - and they were all secured using magnets, so the display could be easily disassembled for transport.
That led to a lot of debate at our offices about how magnets were a great solution to other challenges - and how using them in certain projects could be a great idea.
The cornerstone of this concept is the lightness of our faux products. They're molded in high density polyurethane foam, which looks realistic but is incredibly lightweight. That means our beams can be secured with nothing more than a couple of regular wood screws, unlike real timber.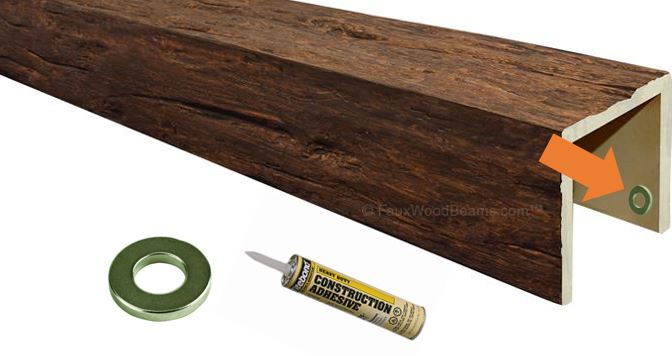 Glue one magnet to the interior of the beam, and another to the mounting block for an instant, secure bond.
And it turns out that regular store-bought magnets can just as effectively secure a faux beam - with the grip of the magnets more than capable of supporting its weight. The advantage of that? Just one firm wrench will remove the beam for access to whatever's underneath - and it will just pop back on afterwards.
This opens up a whole host of possibilities for the enterprising designer - especially in projects in which the beams are being used to cover pipes, wires or cables.
For example, a few years ago we spoke about a project in which homeowners Doug and Carrie covered up exposed pipes in their bathroom with our beams. If they needed access to those pipes, they'd have to remove the beams; and if they'd secured them with magnets rather than screws, it would take just a couple of seconds to 'pop' the beams off and get to the pipes underneath.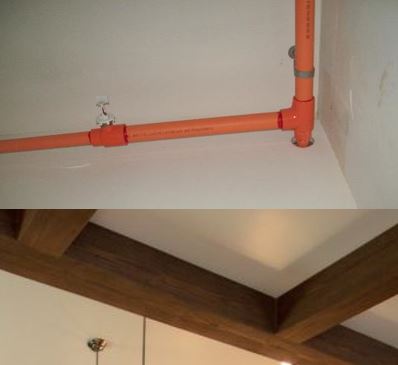 Carrie and Doug covered pipes with our 3-sided beams. Magnets would make accessing the plumbing quick and effortless.
Dave DeSantis faced a similar problem when he created his stunning home bar - using the beams to cover up light fixtures that might need maintenance later. By using magnets, it would make sections easy to remove and reinstall in just seconds.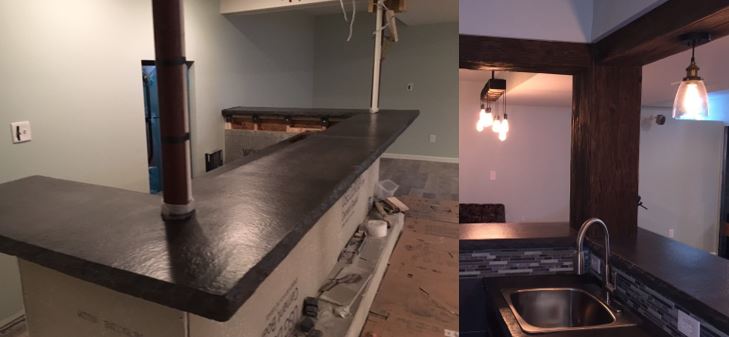 Getting the magnets on the beams is also easy - you just need construction adhesive to attach them.
Neodymium Rare-Earth Magnet Discs are available from most hardware stores for less than $5 each, and each magnet easily supports 5lbs of pull weight. That means just a few of them could hold a faux beam securely in any position.
You just need to glue one magnet to the interior of the beam itself, and another where you want to secure it - and you're done! Or, in the case of Dave's project, you might not even need to do that! After attaching magnets to the inside of the beam, they'd snap right onto the steel pipes that the beam was designed to cover up.
It's a simple, elegant solution - and sure to impress anybody who sees it in action. In fact, if you end up using magnets in your design ideas, be sure to take pictures and let us know - we'd love to feature your project here!