You can make a stunning kitchen or bathroom backsplash with faux panels - but how do you keep them clean?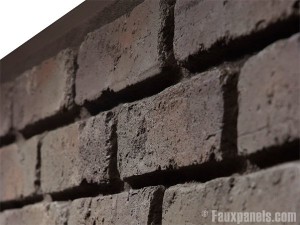 Our panels are vividly textured, to resemble the real thing.
Most people are pretty pedestrian when it comes ot kitchens and bathrooms. They normally finish them in tile, which looks decent enough and is fairly easy to keep clean. However, the end result tends to look pretty boring.
This is why a lot of designers turn to our range of stone, and brick veneer panels. Affordable and easy to install, they can provide not just the look, but texture of real stone or brick - and that adds an exciting high-end finish to kitchens and bathrooms like the kind you'd normally only see in an expensive luxury hotel or show home.
But those vivid and realistic textures do complicate things somewhat. One question we frequently get asked is: How do you keep those richly detailed panels clean?
Splash Damage
The advantage traditional tile has is that it's fairly flat. Glazed tiles, in particular, can normally be wiped clean with a wet rag and a spritz of bathroom cleaner. Even then, it's common to see discolored grout in tiles that are even only a few years old.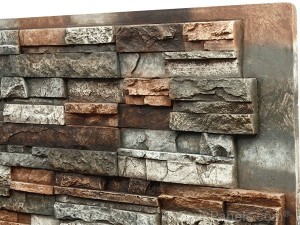 Scrubbing our panels with a soft-bristled brush can remove dirt without damaging them.
But with the panels' realistic textures of stone and brick, it's less easy to swipe and wipe with a bottle of Mr. Clean and call the job done. Grease, dirt and spills can get into the nooks and crannies of the panels and be a little more involved to get clean.
Well, here's the good news: The panels are molded from high density polyurethane which is extremely resistant to moisture, staining and discoloration. Polyurethane is a closed-cell form of plastic; which means it's not soluble to mold or color, and will therefore only rarely get stained by anything splattered on it.
This is actually better than even tile grout, which easily gets stained and discolored.
To clean them effectively, we recommend the following:
Gently wipe the panel with soap and water or a

mild

detergent (do not use chemical cleaners like all-purpose sprays). This will break down grease and other materials (like toothpaste, in the bathroom).
Scrub with a soft-bristled brush. You can use a standard washing-up brush from the supermarket. These are tough enough to get into every nook and cranny of a panels, without being abrasive enough to actually damage them.
Once scrubbed, rinse off with warm, clean water. If you have a spray attachment or showerhead, this is the perfect thing for cleaning the residue.
Dry with a soft towel. This step isn't obligatory, but drying with a damp towel does prevent watermarks.
Once you've got into a routine, it's no more difficult to clean a faux panel backsplash than a regular one - and given how much better they look, that's hardly much of a burden to shoulder,