How can you use dark, wood beams to brighten a sun room design? These project photos will show you!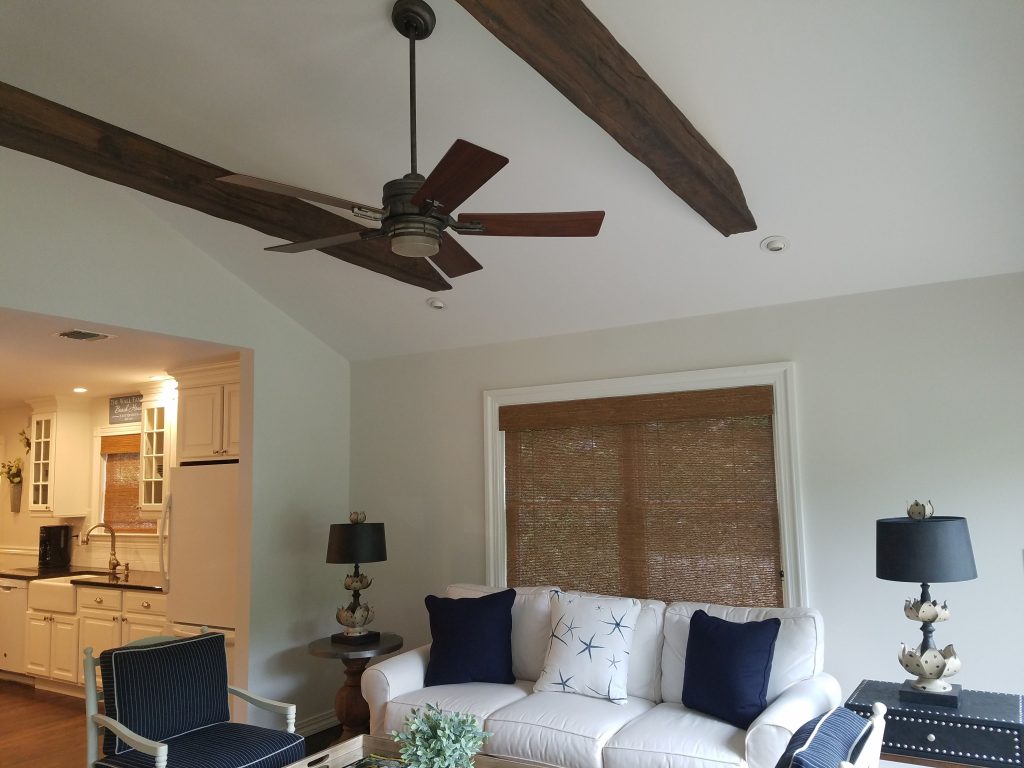 In brightening this formerly-gloomy sunroom, Diane did what many might have thought impossible; and used our dark, Walnut beams to actually brighten a space!
While our faux products are available in a number of different realistic wood finishes (or unfinished to stain yourself), a perennially popular choice seems to be the darker colors: Walnut, Cedar, Oak and even our darkest color, Java. These resemble the rich, dark hues of some of the most expensive and sought-after timber, and bring a beautiful element to your home wherever you choose to install them.
However, there's a misnomer that dark wood beams will make your home look gloomy. It doesn't have to be this way.
Obviously, depending on the look you're going for, our darker-colored beams are perfect for giving a study a 'library look' or adding the look of a classic Victorian club to a 'man cave'. These are inherently 'darker' design aesthetics and our beams are ideal for using in projects like that.
However, one commonly-overlooked use of darker materials in home design is how they can contrast beautifully with lighter designs - making things appear lighter, even though that might sound counter-intuitive at first.
A great example comes from Montauk, Long Island, where designer Diane Bianchini of Dream Windows & Interiors was tasked with brightening up a sun room; and chose to incorporate our products in her design.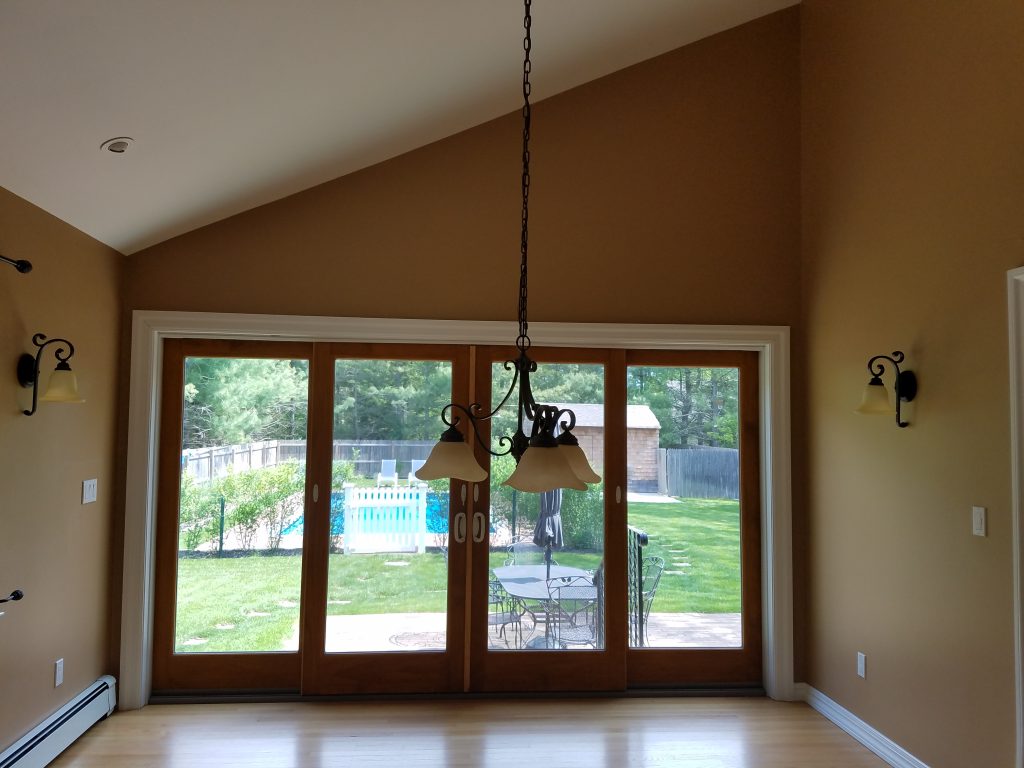 BEFORE: You can see that despite the entire wall of French patio windows, this sunroom was dark and foreboding.
As you can see from the BEFORE pictures, the sunroom was painted a dark tan color, which seemed to defeat the object of the space. It naturally dimmed the sunlight pouring through the patio windows, and made the entire space seem gloomier and darker than it should have done.
Diane's first instinct was an obvious one - replace all that dark brown paint with a light, bright white. But when she started looking into that as a design, an immediate problem because apparent. Or, at least, it was immediate to a master designer like Diane.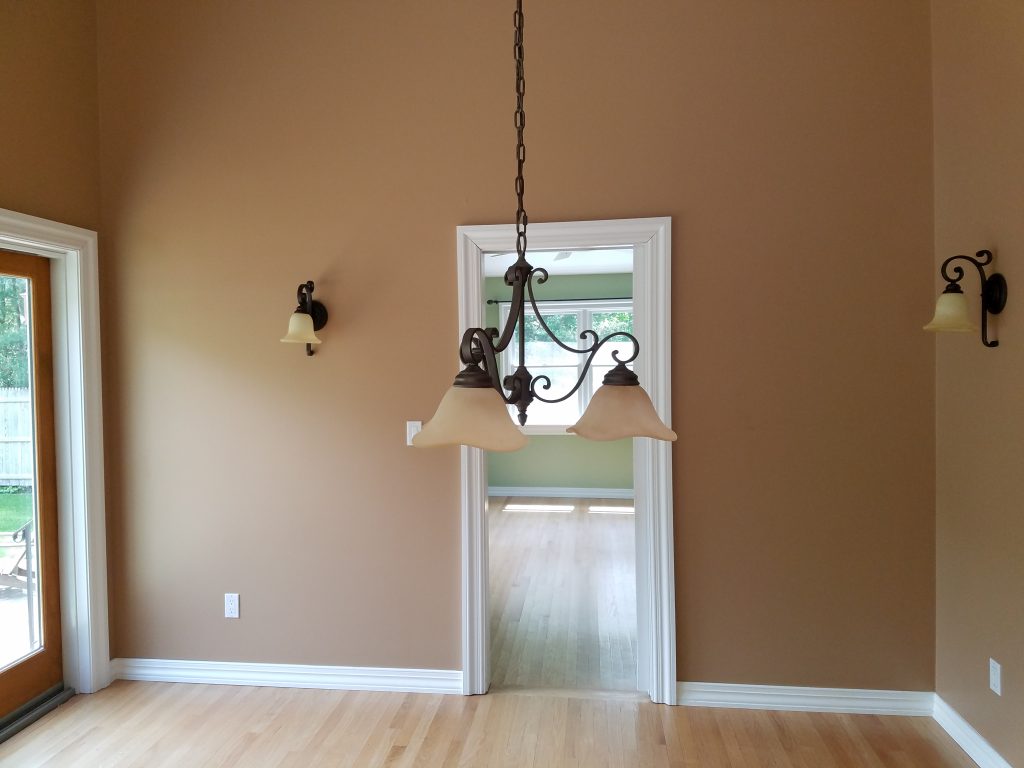 The dark tan color did help contrast with the white molding and baseboards - but overall made the room look dark and gloomy.
The advantage of the tan color was that it contrasted with the white baseboards and molding of the room, and the white ceiling. As soon as Diane looked into painting the walls white, the entire 'frame' of the room disappeared, and all the white blended into one. It was a challenge that needed to be overcome, since it turned a drab and dreary space into one that was simply plain.
And that's where our beams came in.
Diane liked the gentle slope of the sun room's ceiling and had a stroke of genius when she considered the possibility of 'framing' the space by adding some darker elements to the roof line. She carefully researched older homes and discovered that houses built using timber frames would generally have two exposed beams crossing the ceiling of a space like this; and it was that which gave Diane the inspiration for her next move.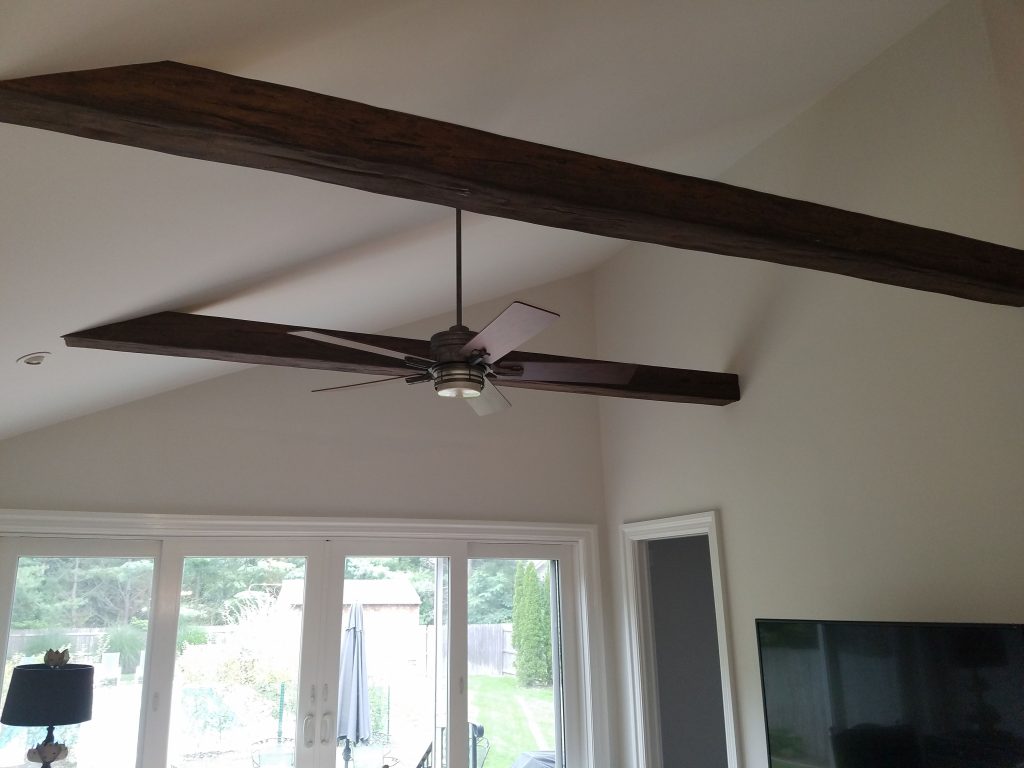 Diane made the obvious decision to swap the dark tan paint for bright white - but the beams were an additional step many might have overlooked.
Diane ordered our Timber Beams in Rich Walnut color, and when they arrived she worked with a contractor to install them so they looked like they were stretching across the ceiling - not fitting flush with the drywall as is more typical in customer projects.
This was easy enough to achieve, as the only difference from a regular faux beam installation was that one side of the beams are secured on mounting blocks installed in the wall - not the ceiling overhead. Our beams are rigid and lightweight enough to comfortably stretch all the way across a room like this one even while only supported at each end - and because they're high overhead, you can even get away with ordering three-sided beams and having the hollow, u-shaped space open towards the ceiling.
(Some customers actually deliberately choose three-sided beams because of this, and install lights in the hollow groove which can then shine upwards onto the ceiling to provide soft, ambient light. The wires are completely hidden in the hollow length of the beam, making it a seamless lighting option.)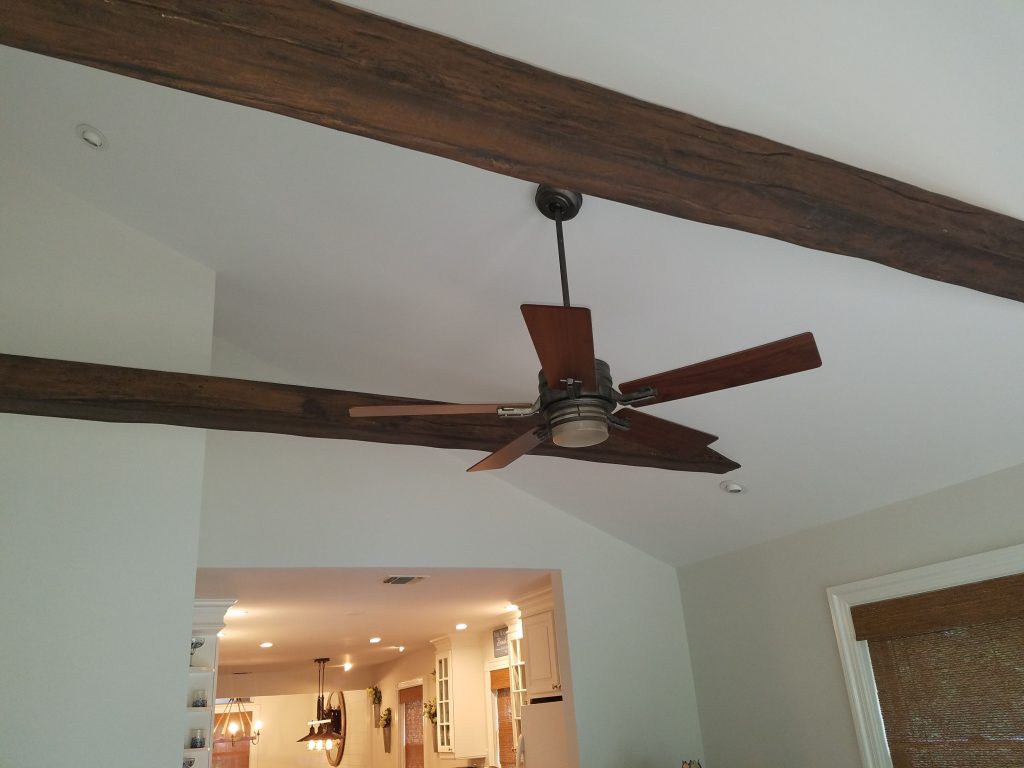 The dark wood color helps break up the monotony of the white ceiling and white walls; and restores the 'frame' of the room that had existed with the tan paint.
In Diane's case, the biggest challenge was measuring and then cutting each end of the beam so that they fit flush with the angled ceiling. By doing that, they appear to go into the ceiling itself, just like a real structural beam would in an authentic timber-framed home.
I described this step as a 'challenge', but overcoming it is straightforward enough. Once an accurate angle has been measured, our beams can be cut to shape with a regular wood saw and from that point installation is the same as with any other faux wood project - you just slot the hollow u-shaped slot over the mounting block, and secure it with screws.
As you can see from these project photos, Diane's choice to add our beams to her design really transformed the room - and helped mitigate the overwhelming white that was an necessary step towards adding some brightness and sunshine to this formerly gloomy sun room.
We love this project, and this it really demonstrates Diane's amazing eye for design. But, more than that, it serves as the perfect example in proving that even 'dark' wood beams can brighten a space when incorporated into an appropriate design.