After one of the most brutal winters in recent records, it's not difficult to see why people appreciate their fireplaces! That's one of the reasons why Bill decided to add rustic synthetic wood mantels to his classic brick fireplace.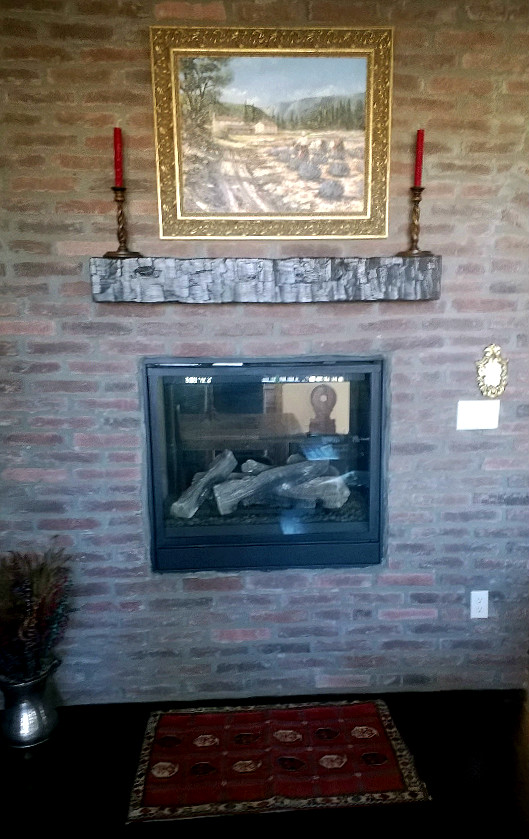 AFTER: The stained beam, once in place, looks just like the real thing!
Rustic Fireplace Design
"Here are before and after photos of my recent fireplace design project," emails Bill B., a FauxWoodBeams.com customer from Colorado Springs. "I used two of your Custom Axed, Unfinished beams, 6"x6" and 48" long."
Why two beams for a single fireplace? Bill explains: "This was a two sided gas fireplace, in a custom Tuscany style home."
The brick chimney actually had fireplace openings on both sides, in separate rooms - hence the need for matching fireplace mantels. "The 'before' picture is essentially the same for both sides of the fireplace," writes Bill.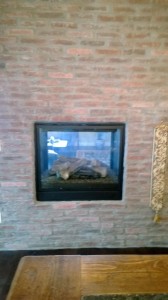 BEFORE: Classic brick design but lacking visual detail.
On the surface of it, Bill's project looks fairly straightforward.
Our mantels and beams are available with a hollow u-shape, so to install them Bill merely attached mounting blocks to the brick surface of his chimney, then 'slotted' the mantels over the mounting blocks and secured them with regular screws.
After installation, our mantels looks like authentic wood and - if properly reinforced - can support knickknacks, small vases, pictures and the like.
The other side: Matching mantels make either side of the fireplace look great.
But what makes Bill's mantel different is the fact that in addition to installing it himself, he also stained it to suit the rest of the wood in his Tuscany style home.
Our beams are available finished in a variety of realistic-looking wood tones, but Bill needed something slightly different. To that end, he ordered the beam unfinished and stained it himself with regular water-based wood stain.
"I included two photos for the final product. I used a Minwax water-based stain, slightly lighter than your 'ebony' stain and darker than your walnut."
The finished result looks exactly like real wood - and matches the rest of the timber in his home. To find more information about staining our products, check out this page on our website.
The end results are impressive - you can tell that much from the photographs Bill shared. But what do you make of the finished stain? We love it!