It's been one heck of a year! Over the last twelve months we've shared dozens of amazing home makeover ideas using FauxPanels on this blog, and we're eager to continue doing so in 2018.
To round up the year, we wanted to to highlight our favorite projects from 2017 - although it was really difficult to choose between them. Let us know in the comments section below if you agree with our picks!
January - Building a Fireplace Surround from Scratch
Ron and Michelle Malchow of Nebraska sent in some fantastic pictures from a project they created from scratch - framing and building an entire fireplace, and then finishing it with Regency Stacked Stone Misty Morning panels.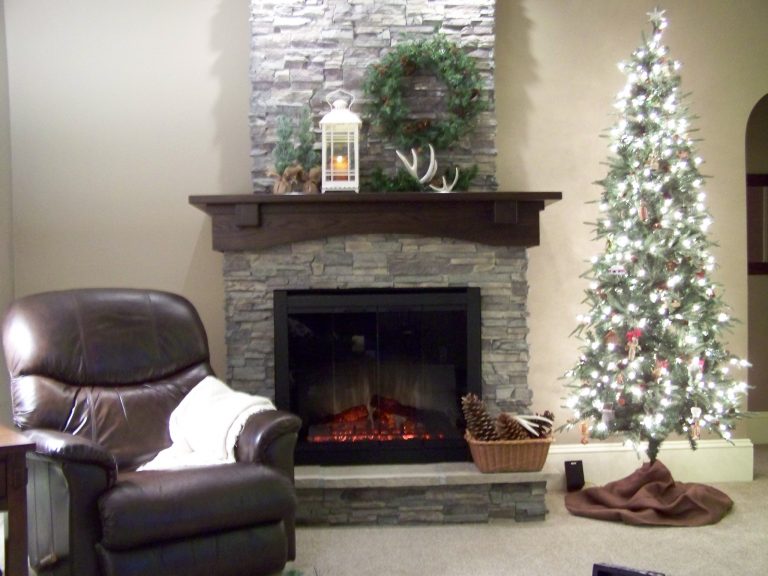 February - Basement Wall Ideas: Check Out This 3 Hour Project
Nick showed us just how easy installing our panels is - when he managed to resurface an entire wall of his finished basement in our Wellington Dry Stack panels in the Boston color in just three hours. (Which may or may not have included coffee breaks).
March - Ingenious Secret Room Idea: The Hidden Bathroom in the Bar
While it's difficult enough to pick one project a month as our favorite, it would be nearly impossible to pick a favorite for the year! Yet one contender for that title would have to be Erin Reeb's amazing 'man cave' project which saw an entire basement bar created with Norwich Colorado Stacked Stone panel, corners and ledgers in the Sierra Brown color - including a hidden doorway leading to a secret bathroom!
April - How to Cover a Crack in the Wall with Style
Nancy Dube's project might not be the most spectacular we've featured - but it might well be the smartest! When she covered up a reoccurring crack in her drywall with our Wellington Drystack Tierra Gold panels she gave her finished basement not just an attractive accent wall, but also a way to cover up an ugly structural flaw that would last decades.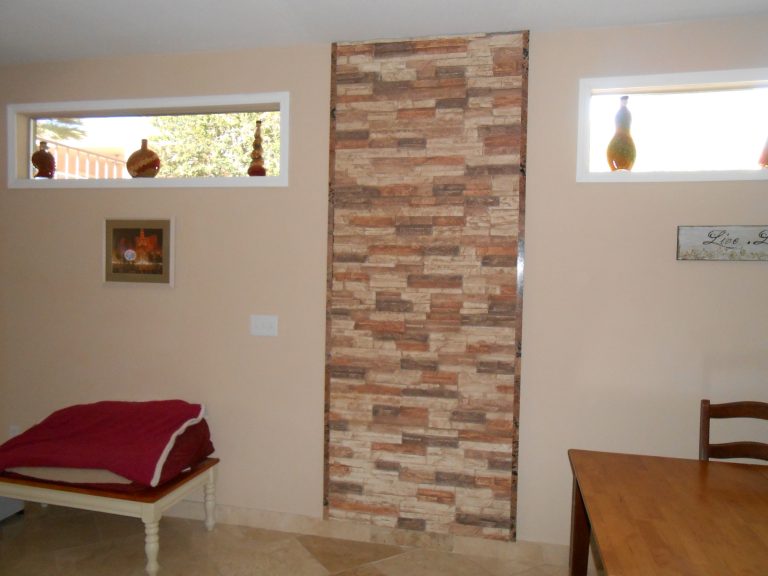 May - Revving Up the RV With an Interior Makeover
This was a first for 2017 - customer Greg Remedes added some amazing style to his top-of-the-line RV with our Wellington Drystack panels in Earth color. It's one of those projects that really couldn't have been accomplished using real stone or brick (and, if you don't believe us, there's a link to a YouTube video in this blog post demonstrating exactly that!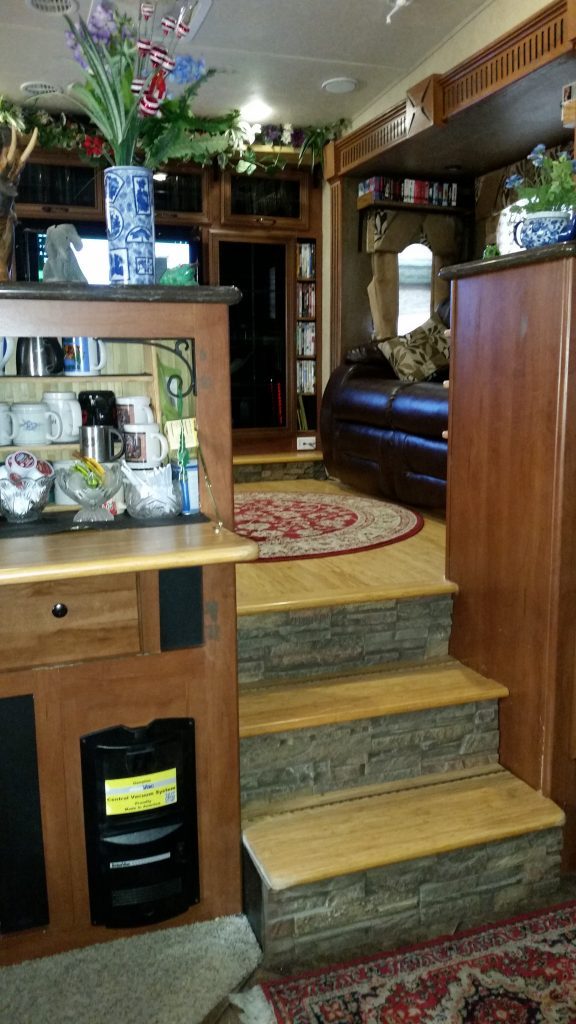 June - The Best Siding for Her House
Pamela demonstrated the power of choosing the right product, when she added Regency River Rock panels with optional corners and other accessories as siding to her home, and perfectly matched the local style of stonework. It's a great-looking project that really fits with the surrounding region's historic homes.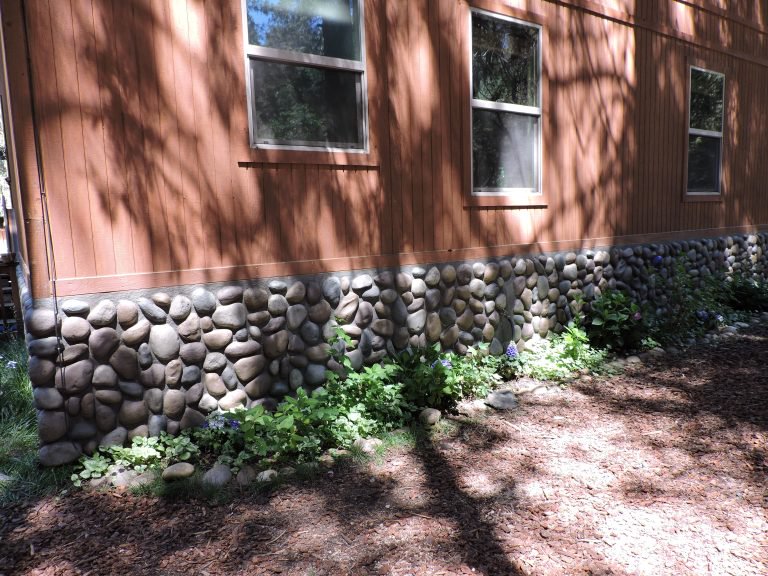 Pamela chose a panel style that matched the most common rocks used in her area.
July - How to Put Up Siding That Looks Like Stone
Another project that contended for our favorite of 2017 came from New Jersey resident Kelly, who resurfaced a portion of her beautiful home with our Norwich Colorado Stacked Stone Tall Panels in the Canyon Gray color. They really transformed her already-beautiful home into something straight out of a fairytale.
August - Screened In Porch Design: Farmhouse Chic
Jefferey created a stunning farmhouse style kitchen virtually from scratch, using Regency Stacked Stone Panels paired with beautiful dark wood fixtures. The customized kitchen unit pairs perfectly with the panels on the wall. Take a look - it's an amazing looking project.
September - Rustic Man Cave Project with Media Center and Bar
One of the many ways in which FauxPanels are superior to real stone or brick is that they are customizable. In a project shared with us by Sean Wickham, he demonstrated the power of 'going faux' when he seamlessly concealed long lengths of wiring and cable for his customized basement media unit behind our Regency Stacked Stone Misty Morning panels and outlet covers. He used the same style panels to create a beautiful backsplash on the man cave's bar.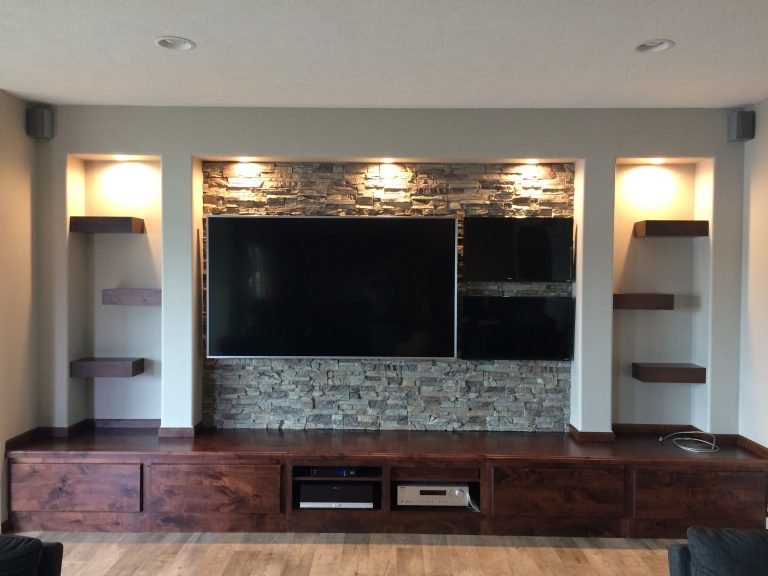 October - Ready for its Close-Up: Movie Set Design with Faux Brick
This was definitely one of the coolest projects we'd been sent pictures of! Indie filmmakers in California used Regency Old Chicago Brick panels in Mixed Twilight color to create a cramped and claustrophobic chimney on their movie set.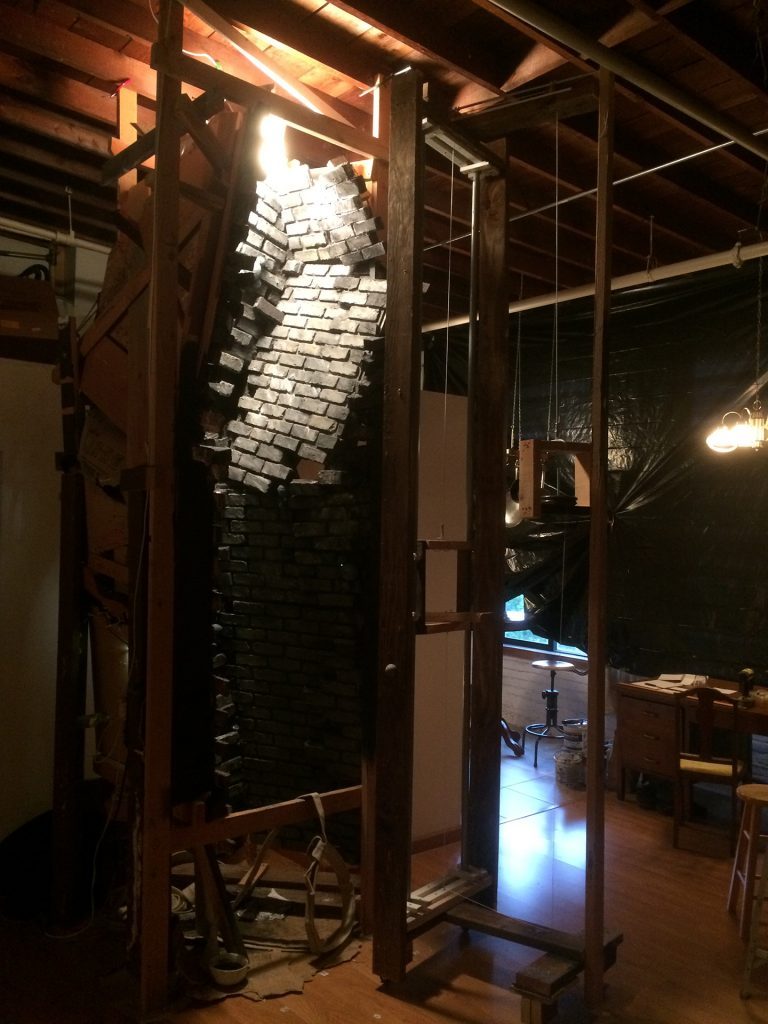 November - Rocking Out a DIY Music Studio
We've did the movies in October - now, how about the music industry? In November of this year, we featured a recording studio built by Tyler Jones, featuring an amazing accent wall created with Regency Old Chicago Brick panels.
December - Subtly Beautiful Foundation Refacing
There's definitely a festive feel to our final panel project of the year - a brilliant demonstration of the philosophy of "less is more" with a subtle resurfacing project using Novi Drystack siding in Flint color. Customer Timothy managed to totally transform the look of his home - but in such an understated way that you only know it looks better. You can't tell exactly why.