We love getting stories and photos of customers' home improvement projects using our faux wood products. Even more exciting, though, is when we hear from customers who've taken their home remodeling ideas one step further – like customer Mark Baillie from Oakland, Ontario.
Home Improvement Made Easy with Faux Beams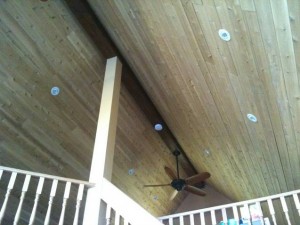 Mark's A-frame roof had a supportive piller in the center. He built around it.
"Here are some pictures," he wrote, enclosing snaps of his A-frame home in Oakville.
"Your company should definitely post these photos on your site because I couldn't find any applications that were similar. Somebody will find this really useful."
Mark was attempting to install our sandblasted beams on the apex of his A-frame ceiling.
Two challenges presented themselves. Firstly, there was a pre-installed ceiling fan he had to build around. Secondly, the roof already had a supporting beam at the point the two sides met.
"If you notice, the beam had to be placed over top of the A-frame beam as a cover. That meant there had to be a few alterations of the product to make it work."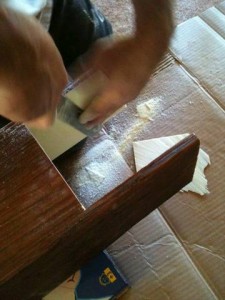 Our faux wood beams can be cut and altered easily with a regular wood saw
Firstly, Mark had to cut a hole in the beam to mount the ceiling fan. Then, he had to cut space to let the central supporting beam pass through the faux wood cover.
"The center supports had to be removed to fit over top of the support beam," Mark explains. "Fortunately, your product is extremely versatile and made the alterations very easy to accomplish."
Because our faux wood beams are molded from light and durable polyurethane, Mark was able to make the alterations quickly and easily; using a regular drill and wood saw to cut the beam where he needed.
"In the end," Mark writes, "the result was amazing!" His pictures confirm that – and hopefully the technique he used to build around the existing supporting beam will help other faux wood customers faced with the same challenge.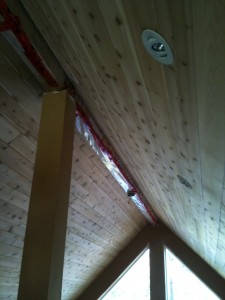 Mark's faux wood beam ran the entire length of the ceiling.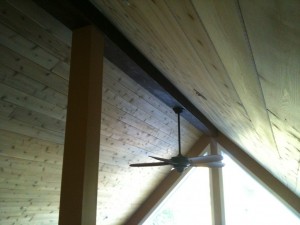 The ceiling fan joist passes straight through the hollow faux wood beam.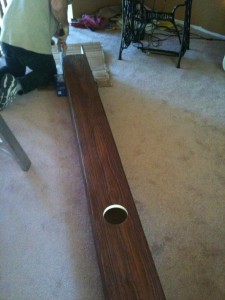 Mark cut the hole for the ceiling fan with a regular electric drill.