When Shawn Evans, owner of Washington, D.C.-based design firm, P [Four], decided he wanted to create a beach house retreat, far from the cares of the work week, it was essential for him to include elements from the natural world that would inspire relaxation and peace.
New Home Construction in Rehoboth Beach Featuring Reclaimed Beams
Although he would be investing in a new home construction project, he wanted a sanctuary with a lived-in look, where he could always look forward to visiting.
For Shawn, the place for that house would be Rehoboth Beach, Delaware. As we discussed the project with him, it turned out that reclaimed beams played a vital role in the achievement of his design goals.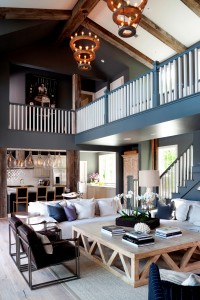 Rather than buy an existing house and renovating it, Shawn decided to construct a house from scratch. "We worked with a custom home builder and architect, and designed the house ourselves," he said.
The main goal of his project was to create a "casual, relaxed retreat," one that gave the comforting impression of being a place that had already been enjoyed by others for years.
Shawn started by furnishing the home with reclaimed woods and found antiques. The beams provided the finishing touch to help keep the house from feeling "brand new."
"The beams helped tie the structure in with the décor and furnishings," he said.
As you'll see in these pictures, Shawn used the beams to both trim the vaulted ceiling and wrap the vertical support columns in his kitchen area and upstairs. He didn't even need to apply a stain.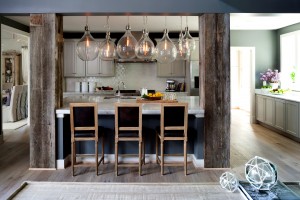 Because reclaimed beams are rescued from barns and similar wooden structures being torn down, each one has a unique, weathered appearance. Their natural tone complemented the existing colors of his interior beautifully. The result was an atmosphere with a warm balance of earthy tones.
"We wanted to keep the material consistent and not introduce something else. In addition, wrapping the steel supports tied the beamed ceiling detail in and brought the reclaimed beams 'down' since it is such a large two story space," he said.
Reclaimed offered Shawn numerous advantages, in contrast to what solid wood beams would have given him. Because they're lighter, structural reinforcement usually isn't necessary, which means they can be used in places where solid wood can't. The beams also have a unique appearance because they spent years aging naturally as part of an old barn or similar structure.
Additionally, most reclaimed wood is of a higher-grade quality than the newly-harvested variety. More importantly, trees weren't cut down to create them. Instead, wood that would have been otherwise discarded was rescued, thereby avoiding waste.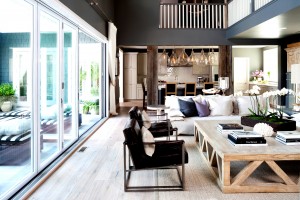 While these beams are decorative, not structural, they can be easily installed over existing steel and wood supports.
When we asked Shawn what installing the beams was like, he said, "Very easy!" and that the ordering process was "easier than anticipated."
He was so pleased with the results, in fact, that he's already working them into future designs.