A restaurant owner restores his popular steakhouse with a touch of old school class using brick veneer panels and faux wood beams.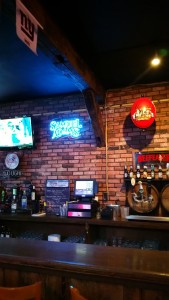 An accent wall created with Old Chicago Brick panels helps restore the bar to its former glory.
Sometimes, the best stories are ones you stumble on accidentally - like the other night, when a friend and I were watching the UFC match ups at a local steakhouse in New Jersey.
This beautiful old restaurant has been in business since the 1930's, and is famous in the area for its stunning interior decor - all old wood, low beams and classic advertising from beer brands dating back to the 19th century.
But the astonishing thing is that this decor isn't authentic - it's a reproduction of how the steakhouse used to look, prior to a devastating fire a little under a decade ago.
The fire gutted the building; ruining decades-old wood panels, and sending the structural beams that supported the roof collapsing down. While the building itself was repaired, the new roof used steel beams to support the roof - and that meant the beloved timber beams disappeared.
The owner admitted that long-time customers of the place were underwhelmed when they returned, to find the unique and intimate atmosphere gone. It was 'just another restaurant' in their eyes.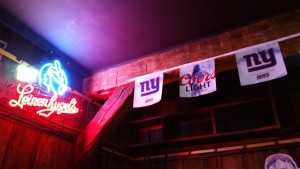 Faux beams replaced the original structural timbers.
So the owner invested a lot of his own money into trying to recapture the old look. Part of it involved buying authentic reclaimed wood to panel the walls with, and lots of authentic advertising material from eBay and auctions. But the beams were a bigger issue.
Fortunately, the owner learned about faux wood beams and was able to order reproduction beams that perfectly imitated the originals. And, after learning of the possibilities of high-quality synthetic products, he decided to keep the design momentum going by creating an accent wall behind the bar with Old Chicago Brick panels.
These brick panels are vividly realistic, molded from authentic Windy City bricks, but come in a thin, lightweight panel that can be attached directly to a cement block wall.
The finished result is amazing - recreating a character-filled look and atmosphere that the owner and customers had feared was gone forever.