Making your home look better with our beams is one thing - but as this FauxWoodBeams.com customer showed us, some ceilings don't look complete without them!
Vaulted Ceiling Gets a Lift with Hollow Beams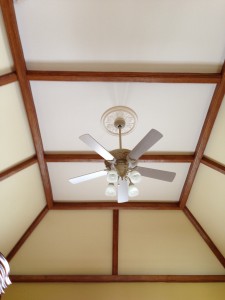 AFTER: Ronald's high vaulted ceiling is a masterpiece, framed by this stunning beam design.
The high vaulted ceiling of Ronald T.'s master bedroom was missing something - and that's where we came in.
A resident of Valatie, New York, Ronald's house is a gorgeous, modern build with great high ceilings. But when he first moved in, something immediately became apparent: the ceilings looked somewhat blank and looming without something to break apart and frame the white space.
That's where our Chalet Beams came into play.
Molded from real timber and perfectly recreating every nook, grain and imperfection of real wood, Chalet Beams are a practical and affordable alternative to solid wood; and add the authentic look and atmosphere of a beamed ceiling without the prohibitive cost.
In Ronald's case, the beams allowed him to frame out his vaulted ceilings and give them a classy, timbered look.
AFTER: Ronald designed the framework using similar patterns to how real, load-bearing beams would have looked.
Installation was straightforward. Each of the beams is u-shaped - with the richly-textured wood pattern on three sides, and an open side on the top. Ronald simply had to screw mounting blocks into the ceiling and then 'slot' the beams over; securing them with regular screws.
What made the project a little more complex was how Ronald created an intricate framework on his ceilings; perfectly mimicking how many real timber roofs used to feature frames of exposed wood beams.
To get this look, Ronald had to measure out his beams and cut them to size before installation; trimming the edges so when one length of beam touched another, there was a flush and seamless join between them.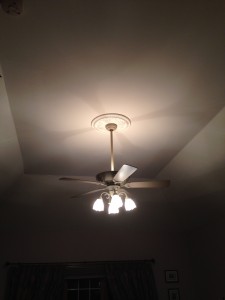 BEFORE: You can see how bare and drab the ceilings looked before the beams were added.
Because the beams are made from high density polyurethane foam, they're actually surprisingly easy to cut to shape - you can do so with a regular wood saw.
The trick is to make sure you measure and cut precisely - something that Ronald, with his carpentry skills, had no problem doing.
The end result makes it look like these beams are functional, load-bearing timber; and give his vaulted ceiling a timeless look that everybody is impressed with.
We love these before and after photos Ronald sent us. What do you think? Let us know in the comments section below!