One of our customers reveals her stunning rustic bathroom design, and the innovative technique she used to get the 'uncovered stonework' look that suits the room so perfectly.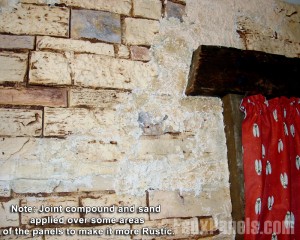 Sue transformed her bathroom with our panels, plus joint compound and sand
Uncovering Potential: Rustic Bathroom Design
Visit old farmhouses in England or Ireland and you'll often see the most amazing interior walls – where stacked stone had been covered up for decades by wattle or filler, and is then loving chipped away to uncover the natural beauty of bare stone. It's a timeless trick that really shows off the history and heritage of an old home.
Here in the United States, even our oldest and most historic houses are generally made from wood – meaning the 'uncovered' stone look is very rare even in buildings that date back a century or more.
Fortunately, an enterprising customer pioneered a way to get that authentic renovated stonework look using nothing more than joint compound, sand and our panels.
"We added a mixture of joint compound and sand," customer Sue explained, in an email accompanying the photos she sent in, "and applied them over some areas of the panels to make it appear like the stone had been 'uncovered' during a renovation."
It was simple trick – but by pairing the panels with rustic, bare wood cabinets and window headers, the results are remarkable.
"We used barn siding and also tinted several of the rocks to vary the colors more," Sue explained. Wrought iron accessories and finishing touches like an antique milking stool really also show off Sue's innovative decorating technique.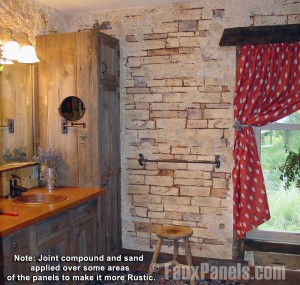 Cleverly considered accessories and matching fittings completed the look.
The finished renovation results in a bathroom that looks like it belongs in some centuries-old French farmhouse, or ancient Irish cottage. Hard to believe it was all brought vividly to life with our panels, a few simple tools and a very creative imagination.
The trick to making the 'uncovered' stone look work is to use the joint compound and sand mixture in the corners and edges of the panels – especially around windows, joints and doors. In authentic old houses, these are the spots that decorators normally leave the filler in place – to add stability to what might be less than solid stonework.
The real secret, though, is 'less is more.' The key to the uncovered stone look is a subtle application of joint compound and sand – never being the focus of the transformation; just a frame to add depth.
This is because the way to make the technique 'pop' is to showcase it with matching furniture accessories and trim – that's what makes Sue's bathroom so impressive and should be your aim if you try a similar project.