One of the biggest advantages of our beams is that they retail at a fraction of the cost of real wood - but why the big discrepancy?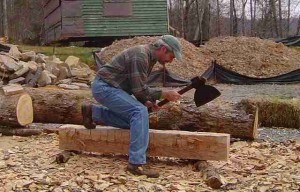 This photo, from the Sautee Nacoochee Heritage Center, shows the process of making rough cut beams
One of my favorite design products is the line of Rough Hewn beams. These are molded from authentic rough cut wood, and then recreated in high density polyurethane foam - perfectly capturing every detail of their stunning texture.
This texture is especially cool because it emulates the look of something rare and expensive. All timber costs a lot - but rough cut beams carry a premium because they are literally carved by hand - at the cost of hundreds of man-hours and tens of thousands of calories.
Here is an illustration of how a real rough hewn beam is made. Lengths of tree are lined up, and a man with an ax whittles away at them for hours. That's why they have that beautiful, uneven texture which is so characterful.
But, as you can imagine, there's nothing quick or easy about carving these beams by hand, hence the cost.
The Rough Hewn beam has an authentic texture, but is cheaper and more practical than real wood.
Faux is a smart and economical alternative, offering that hand hewn look without draining your bank account. It's practically impossible to tell from the real thing - with the only difference being that somebody didn't spend hours swinging an ax to create it for you.
And, in point of fact, our beams are better than the real thing; because the width and finish is uniform. It's difficult to keep consistent lengths of timber when they're hand carved; so real rough cut beams will never line up at seamlessly as our stunning reproductions.