Helpful Tip - Showing Off Knots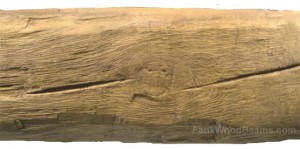 A knot begging for some love
The main reason you stain a piece of wood rather than painting it is to show off the wood's natural features: its grain, its splits and checks, its knots. The knots can be especially interesting, peppered about in irregular shapes and patterns.
The goal is the same with a stained faux beam: Show off its best features, including its knots.
When you're about to stain an unfinished faux beam, pay special attention to those knots. To make them stand out, make them a little darker than the other parts of the beam. You can do this in two ways:
- Before you stain the whole beam, paint each knot. Use a fine brush to paint over the pattern of the knot, emphasizing its features. Let the paint dry overnight, then stain the whole beam including the prepared knots.
- Don't prepare the knots ahead, but go ahead and stain the whole beam. Then wipe off the excess stain everywhere on the beam except for the knots themselves. Or, without wiping, dab extra stain on the knots as the stain is starting to dry.
If you have short cutoffs left over from cutting the beams to length, experiment on these first to get the effect you like best.
A Knot Being Painted on Faux Wood Beam
Stained Faux Wood Beam with Knots Painted First