This year, the FauxWoodBeams.com family has a lot to be grateful for.
FauxWoodBeams.com Wishes You a Happy Thanksgiving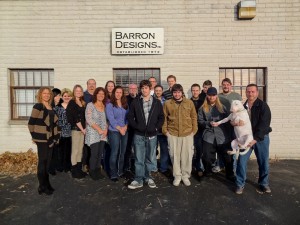 We're thankful for our amazing customer service, warehouse and web development team this Thanksgiving!
Thanksgiving is a holiday we love to celebrate in the FauxWoodBeams.com office. It's a time to express gratitude for everything we have to be thankful for - and to spend quality time with friends and family.
For us, the FauxWoodBeams.com team is family. Many of us have worked together for years, and we look out for each other just like real family does. Just the other week, when Hurricane Sandy hit our Deer Park offices, our team ganged together to help out our friends and colleagues who'd lost power, had their homes damaged or needed a helping hand.
We like to think this sense of "family" comes from that fact that we've been in business for 40 years now (in fact, we celebrated that anniversary just this year!) This Thanksgiving, that's definitely something we're going to express our gratitude about.
It's been a long journey from the 1970s to today; and while the service and quality we offer has never changed, the way we do business has been revolutionized. We've evolved from a traditional building supplies business to become a dynamic online retailer - offering the best products at the best value, all backed by unparallelled customer service that we're incredibly proud of.
That's a side to our business that you can't always see online. There are lots of other websites that sell (or claim to sell) products similar to ours. But many of those are run remotely - sometimes even by a single guy in a home office, acting as the middle man between the customer and the wholesaler. This can mean it's difficult - or impossible - to organize returns, refunds or tackle problems with the order.
While we're just as cutting-edge technology wise, and offer some of the keenest prices around, we also maintain the old-school care and professionalism that helped us stay in business for four decades - working with customers to make sure they get the products they want, when they want - and to help them afterwards if there are any issues.
That's a promise not many online retailers can make - as once they've made the transaction, the whole process is largely out of their hands.
But we go that extra step because of the other thing we're thankful for this holiday - our customers.
It's their loyalty that's kept us in business all these years; and their referrals and recommendations that have helped us grow to become a national retailer. We feel a huge sense of pride when we publish pictures of the design projects our customers have created using our products; and are always excited to receive more.
Happy Thanksgiving, from everybody at FauxWoodBeams.com