While many of our customers have used our panels and siding to create or update outdoor walls in the past, these two recent project ideas we found particularly inspiring. Take a glimpse...
Two Outstanding Outdoor Wall Ideas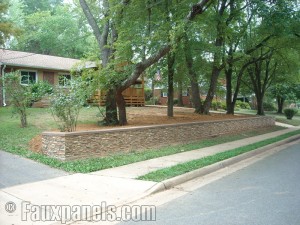 An old pro learns new tricks
This project was sent to us from Ray R., a retired general contractor who put the tool belt back on to build this beautiful 70' retaining wall in his front yard – a wall that's been getting a lot of feedback from friends and neighbors. (Not to mention a few job offers).
We have people stopping to "gape". Since I'm an old retired General Contractor, the "wall" is bringing me work I'm not sure I want. But the attention has been great and most people must be convinced the faux panels are real stone.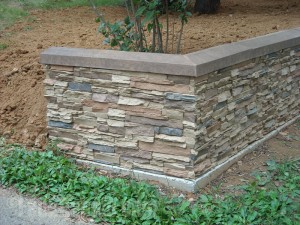 Ray chose the Norwich Colorado panels in Desert Sand to match the coloring of the stone on the house while also blending perfectly with the front porch made entirely of cedar. He then added the accessorizing wall caps, beveling the corners rather than using corner posts for a more natural look.
The panels are made from a polyurethane material with a closed cell structure that won't succumb to weather or pest damage, so Ray can rest assured that his wall will dazzle the neighborhood for years to come.
Conquering the divider
Joe K. of Fergus Ontario, Canada built a box planter / divider wall extending out from his house in just one afternoon with the help of Nailon Stone Wall siding in Desert Sunset.
Building the frame out of 2x3s, Joe then cut the panels to size and attached them to the framing with stainless steel springs.
Working with the materials was a breeze. Used a jig saw with a fine tooth blade and it makes easy cuts that do not get away on you. Since the walls are only a foot thick I used one spring on the inside and connected it to the outside wall so they can flex all they want in any weather…Everyone thinks it's amazing.
For the finishing touches, lights were added to the walkway side of the wall, plus rope lights were strung along inside the planters to shine through the flowers at night.
Joe told us he's got all kinds of crazy ideas for his backyard – we can't wait to see what he comes up with next!