Check out how one FauxPanels.com customer got a warm, winter look for his home with our stone veneer panels!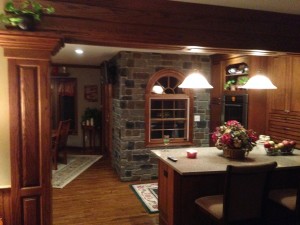 Mike L. added faux stone panels to key walls in his home - and they added a dramatic look perfect for winter.
Prepare for Winter with Faux Stone Panels
The cold weather is approaching - with some meteorologists predicting one of the coldest winter spells on record. That's why many homeowners are taking the time to finish off their winter design projects now; so they don't get postponed by snow and ice.
One such project is this ground-floor renovation by FauxPanels.com customer Mike L. from Hicksville, NY. Mike sent us an email with pictures of the incredible new look he'd given to the ground floor of his home; transforming the kitchen and living room by adding accent walls made using our Carlton Cobblestone Smoke Panels.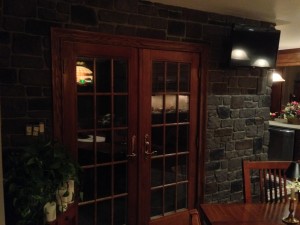 One of the challenges Mike faced was to cut the panels to fit existing wooden features - a breeze with our high density polyurethane foam.
Rather than cover every wall in his home, Mike carefully selected key wall areas - like the external wall in the living room - and used our faux stone panels on them. The result was an instant transformation; making it appear as if those areas of walling were actually made from chunky, weathered cobblestone instead of traditional wood framing and drywall.
The look worked especially well because Mike already had a lot of wooden fixtures in his home, like cherry window surrounds and molding. That wooden look complemented the faux stone and helped complete the old-time look.
While Mike's redesign will look good any time of year, it's going to be especially warm and cozy during the holidays.
While the other walls remain painted drywall - tinted in warm and subtle hues to compliment the richness of the stone and wooden accents - the faux stone panels add warmth and character to Mike's house; perfect for winter.
Choosing our Carlton Cobblestone Smoke Panels was a great move on Mike's part; because in addition to costing a fraction of what real stone might, they were also incredibly easy to install.
One of the challenges Mike faced was installing these panels around existing features, like skirting boards and window surrounds. But because our panels are made from high density polyurethane foam, Mike was able to cut them to size using careful measurements and a regular wood saw; which helped ensure the dramatic results once the panels were installed.
We think this winter look is amazing. What do you think? Let us know in the comments section below.