Our faux panels are often touted as 'better than the real thing.' When it comes to the versatility of creating indoor or outdoor water features, that's no exaggeration.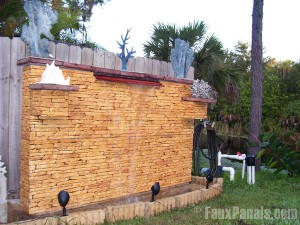 This outdoor water feature was made using our faux stone panels on a timber frame; making it incredible easy to service and repair. If all the 'rainshower sounds' and 'soothing waterfall' CDs that people bought in the 1990s are any indication, there's something very relaxing about the sound of running water. Thats why fountains and other garden water features are popular design ideas utilized in homes, stores, restaurants and spas across the country. One popular comment we've heard regarding faux panels is that they're incredibly useful when it comes to creating similar indoor or outdoor water features. It's not just the fact that our panels are made from tough and durable high density polyurethane - which is absolutely water resistant and perfect for trickling or gushing water down the face of. What
really
does it for designers of water features is the fact that our products are so versatile and customizable. In traditional water features, you'd often have to use concrete, stone and mortar to create the foundations - and any piping and hoses would have to be built right in. In addition to being difficult during construction (there's no question that you have to get-it-right-first-time) it also makes it very difficult to repair and maintain these water features once they're finished.
This stylish fountain uses our faux stone panels as trim; giving the appearence of a stone base, but the practicality of a timber-framed feature. When you use faux panels, on the other hand, you can add the stone or wood as a veneer, and run hoses and pipes unhindered behind the panels; making them easy to install and even easier to access for repairs or maintenance. Their light weight also makes them ideal for indoor water features, including ones that can be moved about. The holes for taps, spigots and spouts can be drilled right through the panels themselves, using nothing more sophisticated than a regular power drill or wood saw. That makes even the most sophisticated water feature designs possible using just the bare minimum of tools. And, when it's all said and done, the look of faux panels is pretty much indistinguishable from real wood or stone - meaning all that added practicality doesn't come at the cost of form or function.
Click here to view more customer photos
of their water features enhanced with faux panels. It's one of the most innovative uses of our faux products; and we're excited to see more of them!