Using our synthetic wood products for your home exterior design is a great way to get that period or historic look. But what if other parts of your home's exterior don't match up - like modern kitchen or bathroom vents? Don't worry; we've got just the thing.
Gable Vents can Compliment Your Exterior Home Design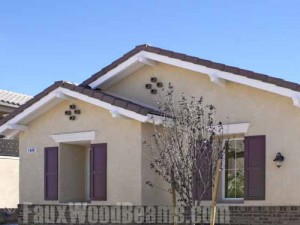 Gable vents are a tiny detail - but ultimately complete the exterior redesign
When Dave and Rosemary retired to Arizona, they wanted a home that suited how they saw themselves.
"Weathered, experienced; but here to stay," jokes Dave.
That's why they invested in turning the exterior of their modern ranch into something that better suited the relaxed, cosy Sun City community they'd moved to.
"We spackled the whole front of the house, to give it an adobe look," Rosemary explains, "then we added faux wood shutters and white-painted rafter tails from FauxWoodBeams.com. It gave it a really classic, southwestern appearance."
"Almost," Dave corrects her.
That "almost" was the one detail that spoiled the illusion Dave and Rosemary were trying to create. While the rest of their redesign gave their 10-year-old home the appearance of one much older, ugly kitchen vents on the front wall were irrevocably modern in style.
"They just looked wrong," Dave explains. "They were a modern detail and didn't go with the aesthetic we were aiming for; but we didn't know how to solve the problem."
The answer came when Rosemary was surfing the FauxWoodBeams.com website for interior beams. She spotted our range of gable vents and realized that they'd be the perfect way to disguise the ugly, modern vents.
"Installing them was easy, too," Dave tells us. "I simply removed the existing vents and placed the new gable vents straight over them." A covering with spackle to match the rest of the exterior hid the backing from view; and gave the instant illusion of real terracotta vents poking out of the wall.
Our gable vents are available in a huge variety of styles and sizes, including round and half-round functional vents, plus purely decorative square vents with or without backing.
Molded from the same tough, durable polyurethane as our synthetic wood beams, they're the perfect compliment to an exterior design; and breathtakingly easy to install.
"Strictly speaking, it's a tiny detail," Rosemary admits, "but makes a huge difference to how the exterior of the house looks. Compared to the neighbors, our house now looks like its been standing their for over fifty years; and we get compliments about it every day."