These recent Before and After fireplace pictures reveal how far just a few stone veneer panels can go to enhance the inviting atmosphere of a room.
Veneer Panels: From Wood to Stone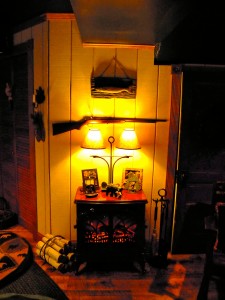 BEFORE: Wooden walls gave a traditional, all-American look - but there was room for improvement.
When Tim Magee's photos hit the FauxPanels.com™ inbox, we all agreed that we liked his style.
The combination of hardwood floors and Americana styling created a warm, welcoming look that we all admired.
So how do you improve on near perfection?
In Tim's case, it was by stripping down the wood paneling behind his gorgeous cast iron stove and replacing it with our Regency Stacked Stone panels.
It took a good look – the classic wood-walled fireplace – and added a touch of timeless class that really completed the All-American atmosphere he was going for.
Two things make Tim's faux panel project particularly noteworthy: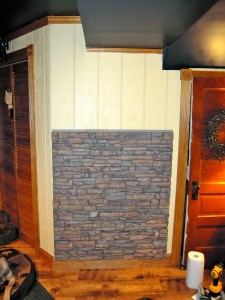 Tim installed the faux stone panels right on top of the existing wooden wall.
The first was how little went a long way.
Tim carefully selected one portion of his wall to cover in stacked stone veneer and just a few of our panels, trimmed down to size with a regular wood saw, did the trick perfectly.
Because they interconnect seamlessly, Tim's installation really looks like an exposed stone foundation wall.
Second, Tim chose to install fire-rated versions of our Regency panels – the perfect backing for his fireplace fixture. Fire rating can be ordered for Oxford, Norwich and Regency lines right from our website, and special-ordered on Carlton, Cambridge and Wellington for larger volume orders.
Designed to resist ignition under open flame and high temperatures, our fire resistant products make a smart and safe option for getting a real stone look without having to call a stonemason.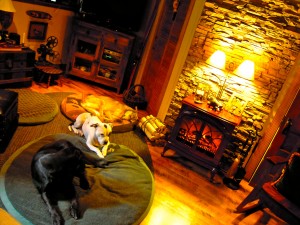 AFTER: With dogs relaxing in front of fire, the finished faux panel project looks amazing.
There's no doubt the finished design project looks impressive – even more so with the fire ablaze and three big dogs sprawled out in front of it.
We're always impressed by the pictures our customers send us – but few are quite as homey and welcoming as these.
For more great inspiration on using our faux panels for fireplace design projects, check our fireplace design ideas.
Have you used our faux panels to complete your fireplace? If so, we'd love to see the finished results. Email them to us at info@fauxpanels.com. We'd love to feature them here!