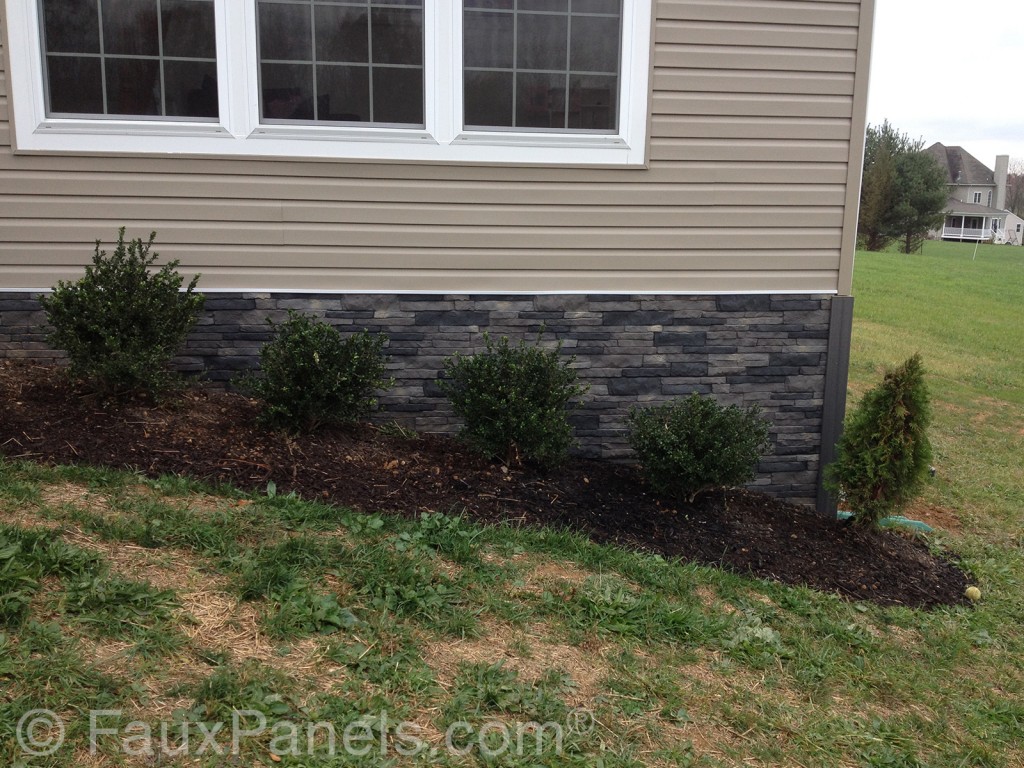 While your home's foundation serves a critical function, you also want it to be attractive. Yes, it's doing an important job — supporting your home — but that doesn't mean it can't look good doing it.
Poured concrete foundations are the most common types of foundations in the U.S., largely because they're solid and reliable. And, although they're effective, they don't win a lot of points in the appearance category. If you feel that your current concrete foundation detracts from your home's overall appearance or that it "stands out" from the rest of your exterior (and not in a good way), consider transforming it into something you'll be proud of.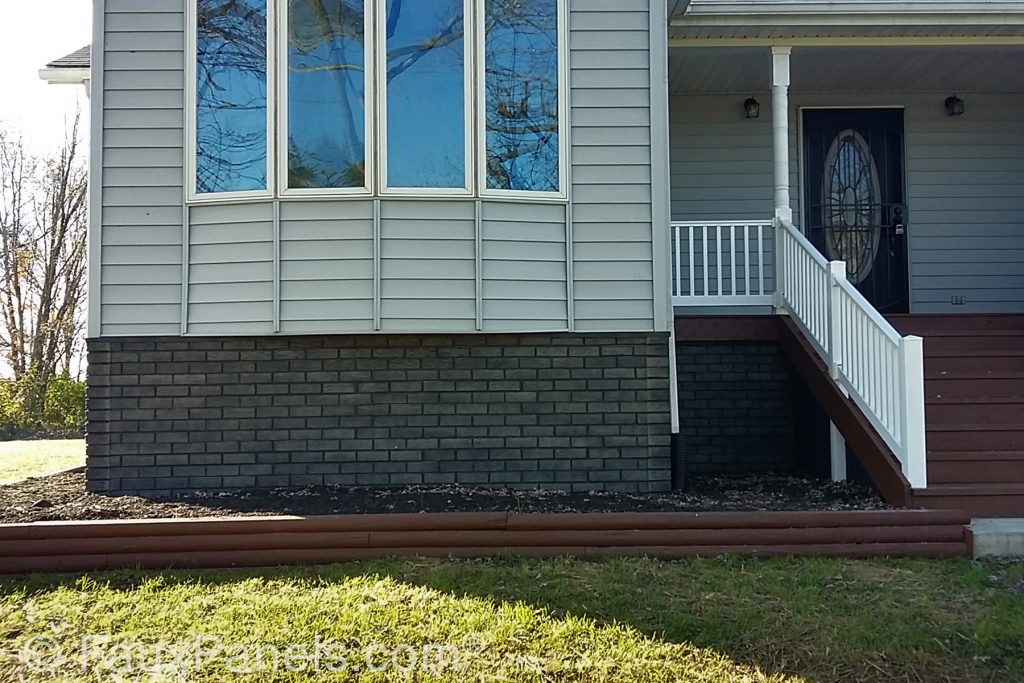 A concrete foundation covering created with Novi Brick Plus siding makes an elegant accent.
Traditionally Installing a Concrete Foundation Covering
If you're looking for inexpensive ways to cover your home's foundation, forget about the traditional method of using real stone and hiring a contractor. That's the least cost-effective route you can take; heavy stone or brick masonry are not easy or cheap materials to work with, so it's going to take several days' worth of work and many hours on the clock for a contractor and his crew.
In addition, contractors aren't always as reliable as you'd hope and you end up with a big bill, a project that took way too long to complete and results you aren't happy with.
Fortunately, that's not your only option. There are alternatives to this traditional method of covering your foundation, and they'll save you time and money.
One of the easiest ways to cover your foundation and increase your home's curb appeal is to install faux or real stone skirting. This DIY project is easier than you might think, and with faux stacked stone panels you can beautify your home's exterior and give it the curb appeal it's been missing.
This home's foundation gets a beauty boost with Novi Drystack stone.
Using Faux Stone Panels for a Concrete Foundation Covering
Made of highly durable polyurethane that's crafted directly from molds made of actual stone, our polyurethane stone panels look just like the real thing. Our customers enjoy peace of mind knowing that their panels will last throughout the years and make their homes look both inviting and attractive.
As many of our customers have realized, visually appealing foundation design doesn't need to involve hours of hard work or thousands of dollars in building materials and contractor fees. With faux stone and brick, getting the look of real masonry is easy and affordable. If you like to DIY, then installing a concrete foundation covering is the perfect project for you.
These lightweight panels are simple to install. It only takes a few steps:
Read our installation guides and watch our installation videos.
Collect the materials you need, including the faux stone panels, glue or nails and a regular wood saw.
Glue the panels or nail them right to your concrete foundation.
Cut them to size using a regular wood saw.
If you have any questions or concerns before, during or after the installation process for your concrete foundation covering, contact us at 1 (800) 651-4223 or info@fauxpanels.com. (Our business hours are Monday through Friday from 9 a.m. to 5 p.m. EST, so if you're doing this project over the weekend, make sure you contact us before the weekend begins.)
Customer Testimonials for Faux Stone Panels
Several of our customers have used faux stone panels as stone skirting for their houses. After completing their projects, they've written to tell us how pleased they were with the results.
Take a look at a few of the recent testimonials and images below and let them inspire you as you embark on your own curb appeal project.
"For years, I wanted to get rid of my side yard unfinished foundation wall eyesore. Faux panels were the perfect solution. And if I can install them with relative ease, anyone can! Tremendous product – I'm looking at doing the back wall next." – Chris, Maple Shade, NJ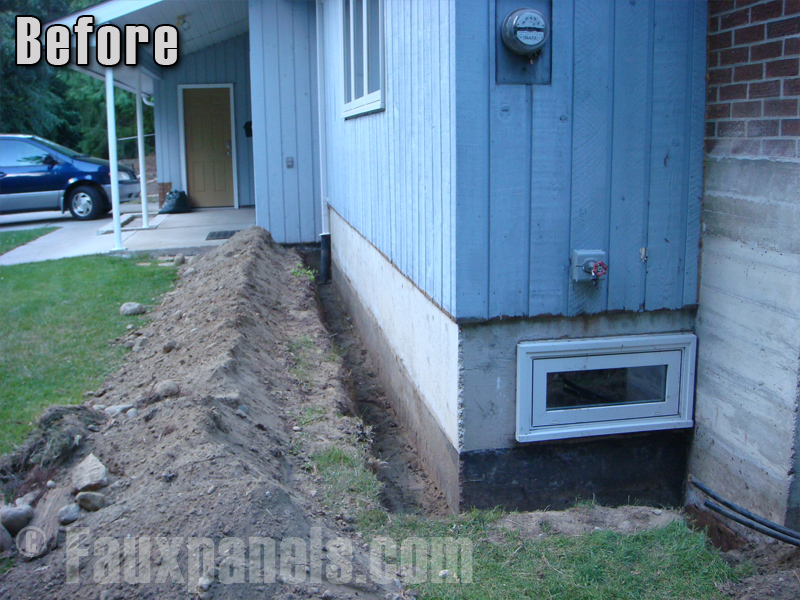 A concrete foundation can be an eyesore.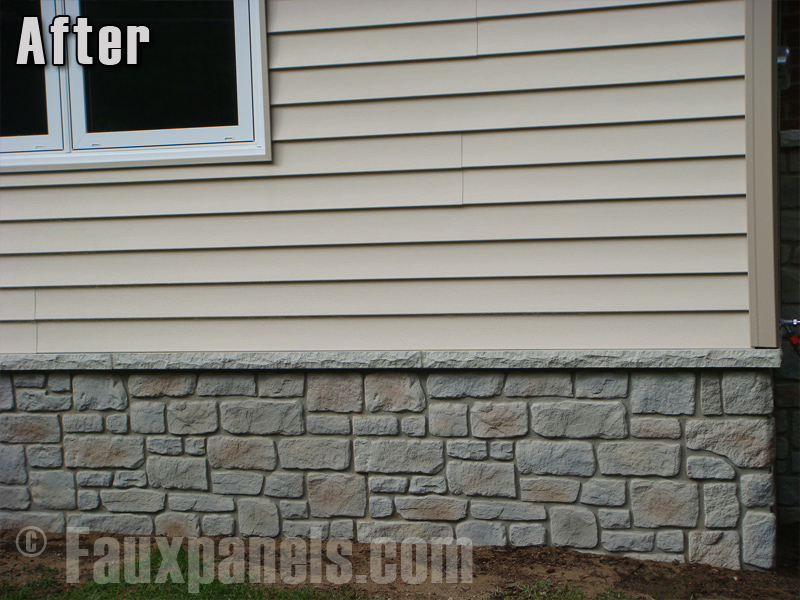 The faux Cobblestone exterior siding panels have the striking appearance of real stone.
"We were looking for different products to cover our 36-inch concrete foundation. After research of different companies we were not sure which product to choose. After samples arrived the decision was easy. The Carlton Cobblestone panels were a clear winner by far. I installed 45 feet of panels by myself in one day. The corners were beautiful and a perfect match. Customer support was first rate and very helpful. We are very pleased and happy with not only the look but also the quality of your product. I thank all members of customer service for great and prompt help." - Eduard P., Castlegar, BC

This home gets an immediate curb appeal upgrade with our faux stone for home skirting.
"We constructed our house last August. We have a poured wall foundation and approximately two feet was left exposed in the front of the house. We wanted a stone look to be added to the top of the foundation. We didn't want to have to pay someone to come in and do this. After purchasing the panels, it took us only a few hours to install 24 panels; this included having to trim the panels to meet our dimensions. They were very easy to use and look fantastic! We then purchased the dark gray caulking to cover up the seams and add the finishing touches. We couldn't be more pleased with the cost, the work time and the overall look to our new home!" - Daniel L. B.
Do you want to increase your home's curb appeal with faux stone panels and siding? Check out our wide selection of both today!