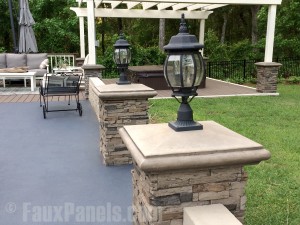 Faux Panels® gets catalog requests all the time. We've never produced a print catalog, and our customers benefit from that decision. Here's why it's better to buy faux stone panels and siding online:
Print catalogs go out of date – sometimes even before they arrive in your mailbox. We're constantly adding new styles, colors and accessories. By directing you to our web site you can be sure you're seeing our most current inventory and options.
Better access to special prices. Have you ever tried to order a sale item from a print catalog and found out it was sold out even though the catalog arrived that day? That won't happen at FauxPanels.com because our ordering system automatically updates quantities as orders are placed so if you see an item listed, it's still available. So check out our Clearance and Sale pages regularly to see what's available.
Print catalogs are expensive to produce and even more expensive to mail. That cost is factored into the prices you pay. Having an online catalog means we don't have to markup prices to pay for a print catalog to be mailed to you.
Our web site features far more information about our products than we could reasonably put in a paper catalog. Want the full specifications for each panel? It's on our web site. Material safety data sheets? They're listed under each panel line's product specifications. Wind load testing data? Yep, that's there, too.
Can't decide what panel to get? Use our Panel Selector Tool at //www.fauxpanels.com/tools-panel-selector.php to narrow down the choices based on your needs.
Not sure how many panels you need? Use our Panel Calculator at //www.fauxpanels.com/_size.php. Just select the panel style you want and the dimensions of the space that will be covered, and you're all set.
Trying to figure out if you can install our faux panels as a DIY project or if you need a contractor?
Check out our extensive installation guides and videos. They cover everything from basic installation to caulking techniques, how to miter a corner, and more. We even have videos submitted by customers to show how easy their product installation was.
Our web site has photo galleries that will provide you with tons of design ideas. Organized both by panel line and style as well as use (such as accent walls, fireplaces, outdoor living spaces, bathrooms and more), you'll more than enough ideas for any type of project.
Still not sure faux panels are right for you? You can check out our huge list of testimonials from our many satisfied customers. All of these people can't be wrong.
Print catalogs waste trees – and it's especially bad since many catalogs are thrown out or never read. At Faux Panels® we do our best to be environmentally responsible. Sparing trees by skipping a paper catalog is just one method.
So there you have it – 10 reasons why our web site is our catalog, and why that's good for you.