Check out the before and after pictures of this fireplace renovation - sent in by FauxWoodBeams.com customer Brenda Thomas of Long Island, New York.
Fireplace Renovation Pictures
Now that winter's finally on the way out, a lot of homeowners have the opportunity to remodel their fireplaces (something you can't do when they're in use each and every day!) Brenda was one such homeowner - updating the look of her fireplace with a custom-sized Heavy Sandblasted mantel.
"I cannot tell you how pleased I am with the mantel!" Brenda writes. "My fireplace went from boring to WOW!"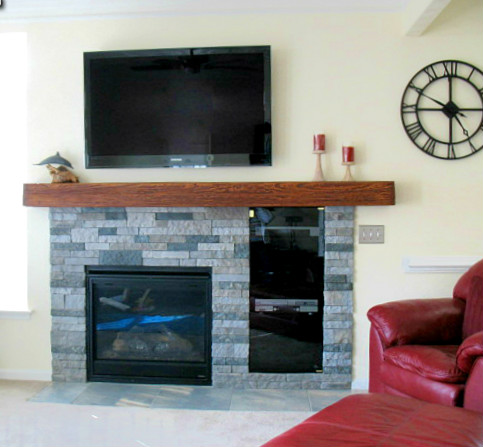 AFTER: Brenda's fireplace renovation looks amazing
As you can tell from the before and after pictures, there were two stages to Brenda's project. The first was to strip and replace the old wooden framing around the fireplace. She chose Versetta stone panels; made from cement aggregate for the look and feel of real stone, but at a fraction of the price.
BEFORE: Drab wood paneling makes for a thoroughly unexciting fireplace.
But the real showpiece of the project was the full-length mantel on top of the fireplace - rendered in beautiful walnut brown and looking exactly like real sandblasted timber.
It installed directly on top of the fireplace with nothing more than mounting blocks and screws; and is practically indistinguishable from the real thing.
"It was simple to install," Brenda writes, "and I got to help. What a transformation, as you can see! Your products are fantastic and within a reasonable budget."
Much lighter than real wood, the mantel can still be used as a practical shelf for pictures, ornaments and vases. It also cost a fraction of what a real timber beam would have done; and is totally resistant to damp, rot and insects.
We think Brenda's fireplace renovation looks amazing - what do you think? Let us know in the comments section below.