Over on our sister blog, Creative Faux Panels, we've just finished highlighting the incredible fireplace remodel Mike and Chris Grace completed. They used Wellington Dry Stack panels in Tierra Gold to get the look of real stonework in their living room; but the finishing touch was a Tuscany mantel.
Magical Fireplace Remodel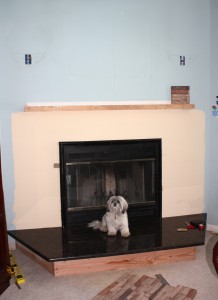 Mike and Chris started off with bare sheetrock and an angled wall.
The combination of a Tuscany mantel and Dry Stack veneer looks terrific – but the real benefit was in the ease and practicality of installation.
"We were working on an inside wall," Mike and Chris wrote, sending in pictures of their completed project, "so were concerned about the weight of installing a real wooden mantel. That would have required more work and money."
With a real wood mantel weighing in at 100lbs or more, installation on an interior sheet rock wall would have been a significant investment.
Fortunately, our Tuscany mantel weighs in at just a breath more than 7lbs – making it straightforward to install with regular trim head screws.
Molded in lightweight polyurethane, the mantel fit flush with the veneer facing and was sturdy enough to display potted plants and family trinkets.
Tuscany mantels are available pre-finished, in authentic-looking cedar, oak or walnut finish, but the Graces ordered theirs Unfinished; staining it themselves to match the rest of the wood and furniture in their living room.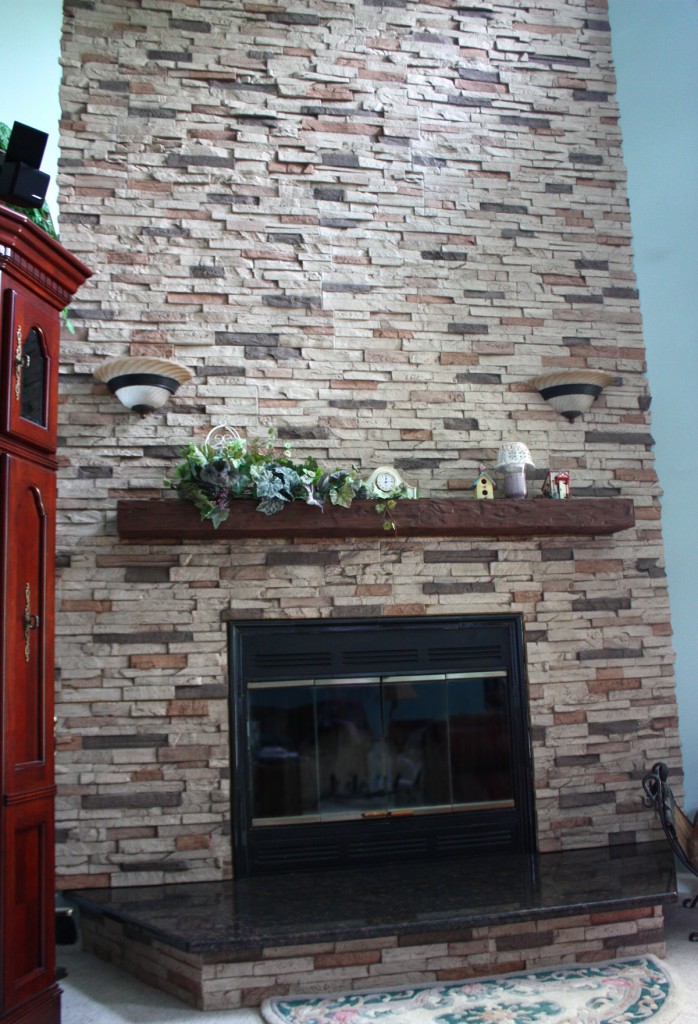 As you'll no doubt agree, the completed remodel looks amazing – and both Mike and Grace are thrilled with the results.
"Friends and family have told us that our fireplace project has totally transformed our room," Mike reports. "It now looks much more intimate and cozy."
What do you think? And have you got a project that combines products from both of our stores?
If so, make sure to reach out to us with pictures – we'd love to see them! Email us as info@fauxwoodbeams.com.