Luke, from Austin, Texas, recently sent us a picture of his fireplace mantel design guaranteed to warm hearts. It was one of our faux wood decorative beams, in use above his roaring fireplace.
Fireplace Design with Cowboy Character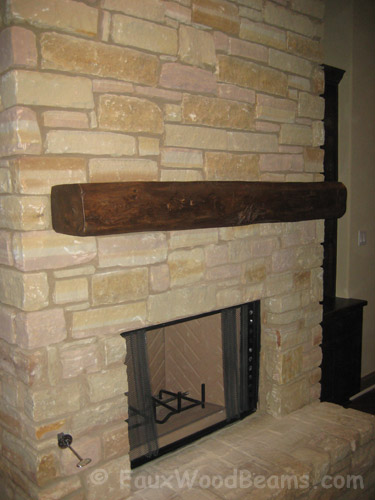 Stained to match the rest of the wood in his home, Luke's Yellowstone Mantel looks absolutely authentic
Luke, it transpired, had always wanted an authentic wood mantel to match the beautiful stonework and design features of his Texas home. But there were numerous obstacles to using a real wooden mantel – the first of which was cost.
"Which is why faux is a very good alternative to an expensive real wood beam," he wrote to us, "and that's if you could even find a rustic beam anyway."
Luke makes a very important point about sourcing real timber. An aged, authentic beam like the one Luke wanted above his fireplace is very expensive and increasingly difficult to track down.
But going "faux" didn't mean that Luke had to compromise on the look his was going for. The Yellowstone Mantel is molded directly from real timber and looks totally authentic.
"You can't tell it's fake," Luke told us – and that's something we've heard before. Customers often tell us that most people can't tell the difference between our molded polyurethane products and real wood.
The Yellowstone Mantel is available with a walnut finish – intricately detailed to look exactly like a hewn walnut beam. But you can also buy it unfinished – and that's the choice Luke made, so he could stain it himself to match the other wood in his home.
"The stain applied easily," he admits, "and turned out amazing."
Mounting is also considerably easier with faux - the mantel weighs just 12lbs and attaches with screws, cleats and industrial adhesive. To give the beam the appearance of extra stability, you can also add corbels underneath.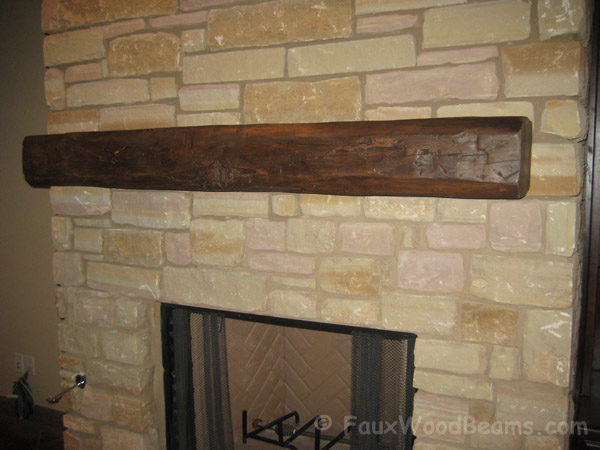 Mounting the beam takes little more than screws and glue - very different to a hefty, real wood beam
A real 5' wood beam, on the other hand, could weigh up to 100lbs or more – and would require some seriously hefty mounting equipment and a strong stone or supporting wall to mount it to.
The results of Luke's handiwork are impressive – the rustic, rough-hewn appearance of his Yellowstone mantel perfectly compliments the stonework of his fireplace – and gives this Texas home a true touch of cowboy character. How do you like it?
We're always excited to receive photos of our products installed and in use – so if you've got a mounted mantel that you think gives Luke's a run for its money, please don't hesitate to send us pictures and let us know all about it.