Kansas residents Shelby and Brad sent us pictures of their ambitious 3-in-1 fireplace makeover!
Three Ideas for Fireplace Makeovers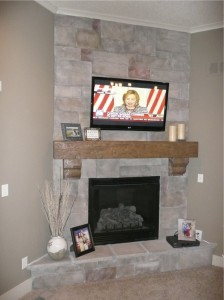 "We've attached photos of our new fireplace," Shelby wrote to us. "As you can see, it makes such a statement."
It does indeed – and what makes their makeover project even more impressive is that the stunning stone fireplace itself is "faux". In fact, they built it from fire-rated Carlton Castle Rock panels, installed straight onto the existing fireplace surround with screws and glue.
"Then we picked your new Tuscany Mantel in Walnut," Shelby explained, "It really compliments the faux stone fireplace and hearth." This decorative mantel is also available in Cedar or Oak – or unfinished if you want to stain it yourself.
"Your customer service was outstanding during our selection phase. You helped us find just the right mantel for our project." In fact Tina, our customer service representative, even went a step further: "She guided us towards some matching Woodland Corbels in Walnut, to complete our project.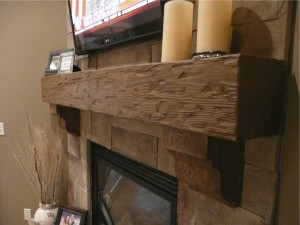 "We received our products right on time and the installation was so easy." Shelby and Brad were able to attach the mantel directly to the paneled surround, using a combination of construction adhesive, cleats and trim head screws. The matching Woodland Corbels attached underneath the mantel – giving the illusion of support for a heavy wooden beam.
"We're very proud of the results - and we know you will be too!"
Faux wood mantels are a great alternative to the real thing – which can be expensive and difficult to install. These mantels designed for decorative use only and not intended to support heavy weight, but are perfect for lightweight picture frames, vases and pretty much anything that people would normally display above a fire.