Texas isn't exactly known for its winter weather, but one of our customers created their own winter wonderland this holiday season, by installing our faux timber beams to add some undeniably rustic charm to their living room design.
Festive Living Room Design with Faux Beams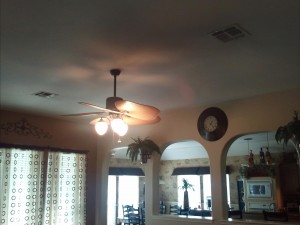 BEFORE: Arched doorways and wall openings gave Holly's house a period feel.
Before it was the Lone Star State, Texas was its own country – and with a storied history like that it's not surprising that the state has some of the most historic homes and buildings in America.
Texas homeowner Holly Van Delden wanted to pay tribute to Texas' historic roots by adding timber beams to her beautiful ranch-style home; and faux wood beams were the perfect solution.
As you can see from the before photos she emailed us, Holly's home was already rich with period detail before she started her makeover project.
Arched doorways and wall openings gave a real southwestern flavor to the home, while a lot of dark wood furniture and a stone fireplace provided a classic, timeless interior perfectly in keeping with the finished design she had in mind.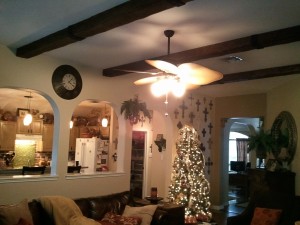 AFTER: Faux timber beams gave a lovely rustic look to the living room.
Adding the faux timber beams was a quick and straightforward process. Molded from durable polyurethane, each beam is light enough to be easily attached to a ceiling with screws and construction adhesive.
Because each beam is molded from a real timber ceiling beam, then painstakingly rendered in rich, wood colors, they're practically indistinguishable from the real thing once installed.
One challenge Holly faced was spanning the full length of her not inconsiderable ceiling. Although our beams are available in a variety of lengths, she cleverly installed two lengths end-to-end and used our rubber beam straps to disguise the join.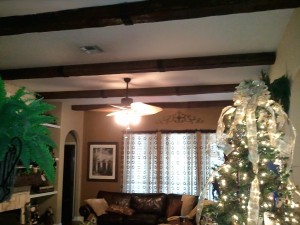 AFTER: A challenge customer Holly faced was disguising where two beams joined. She used our rubber beam straps to hide the seam.
The finished product looks like a single length of timber running from one wall to the other – and from the ground, the rubber beam strap looks identical to the weathered iron straps used to reinforce real wood beams.
As the after pictures show, the results are impressive. The timber beams add a stunning, rustic touch to the home – and look just like real wood.
As you can probably tell from the Christmas tree, these pictures were taken during the holiday season; and the beams add a really festive flavor to the room even if the Texas sunshine means there's very little chance of a white Christmas.
Thanks to Holly for sending us these pictures – and if you have any of your own faux wood beam pictures you'd like to share, we'd love to showcase them here. Email them to info@fauxwoodbeams.com.