Our products are available in a variety of finishes (and Unfinished) to resemble different types of wood. Which one is best for your project?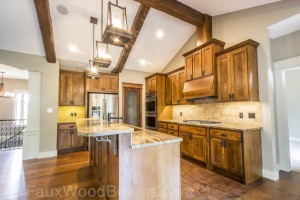 Timber beams in the Walnut finish add dramatic flair to this kitchen
Perhaps the most characteristic advantage of our beams is that they're significantly more affordable than wood - and that is an advantage that multiplies depending on what type of wood you're talking about.
Oak is one of the most common choices for beams, but maple, elm and even softwoods like fir or redwood are also used - and depending on what type of wood you choose it can dramatically effect the price.
Red cedar, for example, tends to be about 20% more expensive than oak; while knotty varieties can be even more expensive still.
With our beams, in contrast, each one has a fixed price depending on the type and size you order. Then you can decide which vividly realistic finish you want, including oak, cedar and walnut.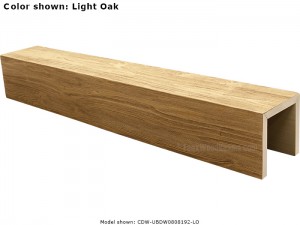 You'd have a hard time telling that this faux wood beam wasn't real Light Oak.
The look and texture of these beams is astonishing - almost impossible to tell from the real thing without stepping up and touching it; and that's where they have an advantage over real wood.
In some instances, like our 'Java' finish which resembles coffeewood, our products are better than the 'real thing' because they're available in lengths and sizes that simply don't exist in the real thing.
Here are some of the finishes we offer:
Light Oak: This finish resembles lightly-treated oak wood, which retains its light color. Fresh and sturdy, oak is the choice for many craftsman style homes, and is therefore perfect for capturing the turn-of-the-century American style of home building.
Oak: A darker finish, mirroring treated oak wood, our oak finish also works well at capturing the majesty of craftsman style homes, and works well with older and more rustic designs as the darker color naturally looks more aged.
Walnut: Walnut was a staple in the 18th century, and has a dark, rich, distinguished color. It's perfect for using in homes to emphasis a Colonial or Old American look, and pairs perfectly with a lot of antique furniture or modern reproductions.
Tuscany beam mantel in Cedar Finish

Cedar: Cedar is an American softwood, and was commonly used in the frontier and for building sturdy, workmanlike objects like packing crates and chests. As such it's a good choice for adding a more western look.

Java: Java is our name for a finish that resembles dark coffeewood, with a rich coffee-like finish. It's got a more modern edge to it, and is the perfect addition for clean designs, or decor that has an far eastern or Asian flavor to it.
Cinnamon: Designed to resemble sassafras wood, from the southeastern United States, our cinnamon finish has a timeless element to it, and is great for capturing a homey, welcoming look.
It's fantastic, to be able to choose your finish and order your beams exactly to order, instead of trying to source the real thing. For a start, some types of wood are difficult to find, especially in the sizes you want. Secondly, the rarer the type of wood, the harder it is to find supplies of it that match in texture or color. Finally, all real timber is expensive; and when you start going into the choices between different types of wood, those prices just continue to go up.
Going 'faux' is a smart choice for a lot of reasons; but being able to pick the exact finish you want is another example of where our synthetic products are superior to the real thing.