A home with a gorgeous wood siding exterior, or gables adorned with rustic wooden shakes has curb appeal that boasts warmth, dimension, and rustic charm. Homeowners who use real, authentic wood siding on their home's exterior may find that installation is complicated and upkeep of their wood siding is time-consuming and expensive.
Luckily, there's a better solution. Faux wood panels and exterior siding have a striking resemblance to real wood, with little to no maintenance required. Better yet, installation is DIY-friendly, making it easy to complete your project using simple tools and materials.
Let's explore how you can use exterior wood-look siding and panels to add character to your home's exterior and outdoor spaces.
Can I Install Faux Wood Panels and Siding Outside?
Yes, you can – faux wood is so versatile!
Faux wood panels can be used inside or outside of your home. These panels are available in a variety of sizes, wood grains, and colors that are incredibly realistic.
Faux wood siding is a great option for home exteriors. Our selection of shake siding includes rough sawn, round, and hand split in an impressive array of colors.
So, now let's uncover the differences in how faux wood panels and shake siding compare to real wood.
Benefits of Faux Wood vs. Real Wood
Faux wood panels and siding are smart alternatives when you want the exterior wood look without all of the hassle and expense. At first glance, it's hard to tell the difference, but faux wood has a lot of benefits that real wood just can't match.
| | | |
| --- | --- | --- |
| | Faux Wood Panels & Siding | Real Wood Exterior Siding |
| Maintenance | Little to no maintenance, can be cleaned with a damp cloth. | Periodic cleaning, sealing, painting, and replacement. |
| Weight | Lightweight, easy to manage. | Solid and heavy. |
| Cost | Affordable alternative to real wood. | Expensive to purchase, install, and maintain. |
| Ease of installation | Quick, simple, DIY friendly. | May require a professional. |
| Wood look and texture | Cast from molds of real wood | Natural wood grain, natural distressing, and texture. |
| Durability | Resistant to cracking, chipping, fading, and peeling. Resistant to most weather conditions. Won't attract most insects. | Requires upkeep to maintain durability. May attract insects. |
Exterior Faux Wood Panel & Siding Ideas
Our faux wood panels and siding can completely transform the look of your home's exterior and outdoor spaces. Whether you cover an entire wall or use them to complement an existing stone or brick facade, these products are perfect for your home exterior makeover.
How to Choose the Right Exterior Wood Siding or Panel
When it comes to deciding between real wood siding and faux wood exterior siding panels, it's helpful to ask yourself the following questions to determine your priorities.
What's your budget? Which product (real vs. faux) fits within your budget?
Do you have time or energy for the maintenance and upkeep of real wood siding?
Does your exterior siding need to be resistant to insects?
How durable do you need your siding to be?
How easy is the installation process?
If you're looking for a cost-effective, durable, easy-to-install product, exterior faux wood panels and siding are the answer. So how do you choose the product for your exterior home makeover?
Determine What Look You're Going For
Are you looking for a whimsical, cottage-style exterior, something modern and refreshing, or more of a natural and classic look? Once you've decided what style suits you and your space, you'll have an easier time selecting the right faux wood panel or shake.
Where Are You Installing?
The installation location is another thing to consider when choosing the right faux wood exterior panel or shake for your home.
Although every faux wood variety can be installed on almost any exterior surface, some may be more suited for installation on one surface over another.
Explore All Color Options
Once you've selected the exterior faux wood panel that is best for your home, be sure to explore all of the color options available. Each variety we offer has at least five colors to choose from that all blend seamlessly into their natural surroundings.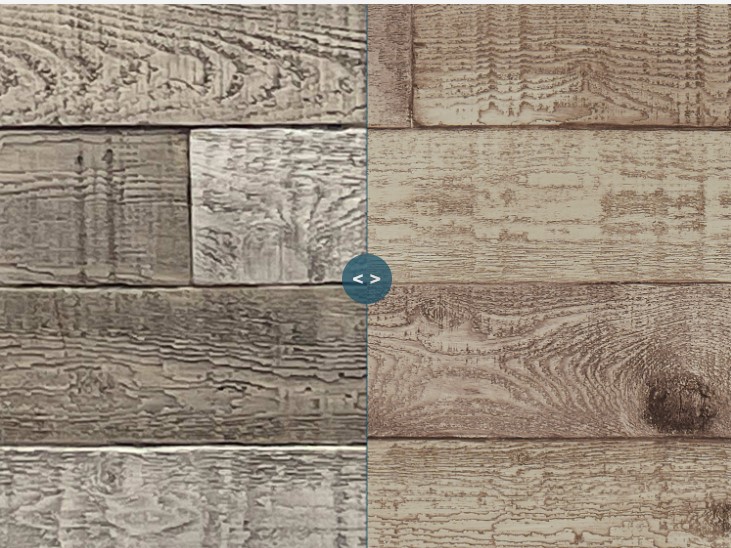 You can even use our helpful color comparison guide located next to the product description on each product page to look at colors side by side. You're sure to find your favorite!
Ready For a Major Home Exterior Upgrade?
Say goodbye to drab exterior walls!
Choosing faux wood wall panels or siding over natural wood saves time, money, and headaches without sacrificing quality or looks. And, as a bonus, installing faux wood panels or siding is a simple process that you can do yourself over a weekend, or less, using tools that you may already have at home.
Your exterior transformation is as simple as selecting the right panel, placing an order, and installing it yourself. Click below to get started!