Want to add a casual, rustic flair to your ceiling? Match up faux wood paneling with our faux wood beams for an all-wood, European or tropical-inspired look.
Faux Wood Ceiling Options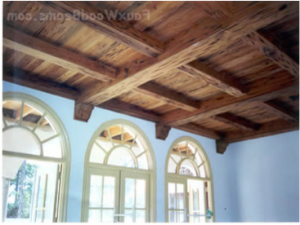 Ceiling panels and faux wood beams make a beautiful combination
Our artificial timber ceiling beams are a great way to give a modern home a more classical, timeless feel – but you can take that one step further by pairing our beams with faux wood paneling and ceiling systems.
Installing ceiling panels is a quick and easy way to make the ceiling look like it's covered with old-school floorboards.
Match those with similarly colored faux wood beams and all you'll be missing will be the sound of creaking footsteps as somebody walks across the floorboards upstairs.
It's great for those wanting to add a countryside feel to their kitchen or living room; and also a great choice for restaurants and businesses that want a classic appearance despite being based in a modern building. A common pairing uses faux bamboo panels to give an authentic Tikki hut look.
A classic tikki bar requires bamboo. These ceiling panels are a stylish alternative.
Installing a combination of faux wood beams and ceiling panels is easy. The panels go on first; and are best when installed with a combination of construction adhesive and screws. Most of our faux wood paneling interlocking, so aside from having to cut the final row with a standard wood saw, it's affordable and easy to give your ceiling in the instant look of wood.
Next come the artificial timber ceiling beams. These install just as they would on your regular ceiling; with a couple of important differences. You can either attach your mounting blocks directly to the ceiling and cut your panels around them, or attached the blocks on top of the mounted panels with longer screws that will go right through to the other side.
These ceiling systems offer a huge variety of wood pairing options, and a quick and affordable way to transform any room in your home. Check out our section on ceiling design ideas, and make sure to send in pictures of your own ceiling if you've paired panels and beams while transforming your home. We'd love to see them!