Our faux wood products are often described as being "better than the real thing." Now, thanks to a Silver Jeans billboard in New York's Times Square, they're "larger than life" as well!
Faux Wood Beams in New York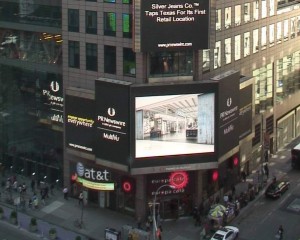 Silver Jeans proudly announced their flagship store on a Times Square billboard!
They say of New York "if you can make it there, you can make it anywhere." Well, FauxWoodBeams.com might have just "made it" then - because our products are proudly being broadcast from the bright lights of Broadway, right in New York's Times Square.
It's through our partnership with the Silver Jeans Company - one of the hottest brands in America, that's fast becoming known as "the" jeans brand for people searching for the perfect fit and feel.
Thanks to their increasing visibility in the marketplace, Silver Jeans is opening stores all over America - and our faux wood products are going to be a part of that!
Silver Jeans' first brick-and-mortar store is opening in Woodland, Texas - and our false beams and faux wood planks are serving as an important part of the in-store decor - so important, that they were featured in the artists design sketches used in an advert Silver Jeans broadcast from a Times Square jumbotron.
Why go faux? Because despite being a hip and modern company, Silver Jeans has a long and storied history that they want to pay tribute to in their store design - and our products allowed them to do it.
The Silver Jeans Company started life as the Western Glove Company in the 1870s.
Silver Jeans is named for the Silver family, who started a denim and work-wear company in Winnipeg, Canada, in the 1870s. In the 1940s, they shifted their product range to focus exclusively on denim products - and Silver Jeans was born.
So while their flagship store is bright and modern - reflecting the company's hip brand appeal - the decor includes wood details like planks and beams that hark back to a company founded on the North American frontier.
Because using real wood would have been too impractical and expensive, our faux wood products provided an awesome alternative.
Our faux wood products are made by taking molds of real timber beams and planks, and then using those to create molded polyurethane foam copies that perfectly capture every grain, knot and imperfection.
Finely detailed with rich colors, our beams are light and durable, yet practically indistinguishable from real wood.
As soon as the Woodland store is finished, we'll work to get pictures of it - and with 4 more stores being built this year we're excited to be part of the Silver Jeans revolution!