FauxPanels.com and our sister company, FauxWoodBeams.com, have become frequent television stars through volunteering time and materials to shows like Extreme Makeover: Home Edition. This Friday, Faux Wood Beams will be showcased; and check out our gallery to see faux stone panels used in a number of similar stunning home transformations.
Faux Wood Beams Featured on Extreme Makeover: Home Edition
Friends and neighbors helped out to make the Extreme Makeover possible.
Fauxpanels.com and FauxWoodBeams.com will mark their twelfth collaboration with ABC's hit TV show Extreme Makeover: Home Edition this Friday, with an episode dedicated to the deserving Dunning family, of Delaware.
As part of their "Jusst Sooup" charity, Dale and Ken Dunning get up at 2am every morning to cook delicious soup for distribution to seventeen local soup kitchens.
Inspired by their story, designer Ty Pennington and the crew of Extreme Makeover: Home Edition decided to help give the Dunnings a brand new home for their charity, in the form of a modern building built to look like a classic farmhouse.
To achieve the rustic look, Extreme Makeover: Home Edition reached out to FauxWoodBeams.com; asking them to create a towering king truss in the main room of the new home.
FauxWoodBeams.com was happy to help out.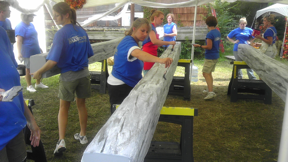 Artificial wood allowed the team to produce a stunning interior truss that would have been impossible with real timber.
"We wanted the Dunnings' new space to feel homey. An old-fashioned ceiling design made with modern materials was the perfect way to do that."
The episode of Extreme Makeover: Home Edition featuring the faux wood truss and the deserving Dunnings family will air this Friday at 8pm EST / 9pm CT on ABC – and designers Michael Moloney and Paige Hemmis will also be appearing on Who Wants to Be a Millionaire on Thursday and Friday to raise money for Jusst Sooup.
FauxPanels.com has also been featured on Extreme Makeover: Home Edition, and many other shows like it. You can see a gallery of featured faux panels on our website, here.
Also, stay tuned for the biggest Extreme Makeover: Home Edition episode yet; their 200th episode, in which FauxPanels.com and FauxWoodBeams.com will both be contributing to a project to rebuild homes devastated by the tornado in Joplin, MO.