When it comes to stone and stonework, history enthusiast Linda Mason knows her stuff. That's why we were excited when this Connecticut resident chose to use our faux stone panels to create a room design that showcased her stunning collection of Anglo-Saxon artifacts.
Bringing the Middle Ages to Life with Faux Stone Panels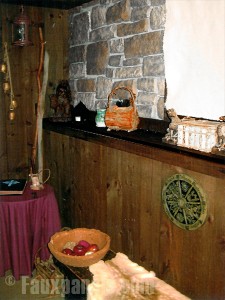 Wood and stone veneer brought the middle ages vividly to life.
"I collect things that found in the hall or private chambers of well-to-do Anglo-Saxon nobles," Linda wrote to us, when she sent in pictures of our Royal Rock Face Potomac Panels in use. "Objects from the "Dark Ages," dating back to the 10th and 11th century."
To showcase her impressive collection, she's turned an entire room of her home into an exhibit – and decorated it to match her impressive collection.
"The room I chose was paneled in dark, rough wood," she wrote, "put there by the people who owned the house in the late 70s. Even the ceiling is finished in this wood paneling." Most homeowners are quick to tear out such retro fittings, but Linda saw their potential straight away.
"The wood was perfect for what I was trying to accomplish," she told us. "The Saxons didn't just use wood to build their homes – they actually believed that homes needed to be made from wood because it was a growing, living thing."
But two corners of Linda's display room posed problems.
"The two sections framing the window were finished with wallpaper," she explained. "I wanted to put rock on these sections, because it was used for walls and churches back in the dark ages." Linda's historical artifacts were all recovered from the halls and chambers of well-to-do noblemen, and Linda wanted her room design to reflect styling an Anglo-Saxon noble might have chosen.
"I decided my noble would have liked a bit of stone in his wall," she told us. "Besides, I like stone."
But once she'd settled on stonework for her exhibition room, Linda was faced with a dilemma – how to bring her vision to life.
Molded from polyurethene, these faux stone panels perfectly capture the texture of stone and wood.
"I looked at real rock, Styrofoam, ceiling tiles and textured paint tiles. The paint looked great, but made the sheet rock bubble." Naturally, Linda's first choice was to use real stone, but she quickly realized that; "stone would have required major restructuring to hold the weight."
After exploring all her options, Linda concluded that; "faux panels were the most authentic look for the right price and ease of use." She ordered samples direct from FauxPanels.com and eventually settled on our Royal Rock Face Potomac Panels. "This pattern was very close to stones I had seen in England from the 9th to 13th centuries."
Installation, as expected, was considerably easier than using real stone.
"The panels were light and easy to work with," she explained. Our faux stone panels require little else but PVC adhesive and screws to mount, and can be cut to size with a regular wood saw. The only comment Linda makes is that; "I'd caution people to cut them outside due to the dust."
The results of her project are stunning – a true taste of the Middle Ages right in the heart of Connecticut. Her handiwork is even more impressive given how rigorous Linda's standards of historical accuracy are.
But even though she went "faux," Linda's more than satisfied. "I would use Faux Panels again and I would recommend them to others. They saved money on materials and labor and look great."