Unsolicited praise is always the best kind, so it made our day at FauxPanels.com™ when we got a Facebook message saying, "We love your products" along with photos of it installed in a restaurant. That led to a lovely chat with Lee and Sheila C., owners of Billy Ray's Restaurant in Prestenberg, KY, about their renovation using our faux stone panels.
Faux Stone Allows for an Easy Restaurant Renovation
Stacked stone faux panels create an attractive and durable accent wall in Billy Ray's dining room
The restaurant itself is a local institution, having been founded in the 1920s. Shelia and Lee have owned it for the last 35 years, maintaining its tradition of family-style cooking. It's the type of place where they know their regulars' preferences, and people who live further away regularly beg them to open up a second location in Ashland or Pikeville so they don't have to travel so far to enjoy Billy Ray's delicious dishes.
With Billy Ray's reputation for outstanding comfort food, who can blame them? But even a restaurant with long history and a reputation for classic comfort food needs an update now and then. So in 2012, Lee and Shelia decided to spruce up the place, while making sure it kept that home-y atmosphere., which is where our faux stone panels came in.
"We wanted to update to a more modern rustic look so our customers would feel welcomed and have a more relaxed feel," said Lee.
To do that, they chose our Wellington Drystack faux stone siding panels in Earth. Just like all of our faux stone products, the panels are cast from molds made from real stone for an authentic look and texture. The polyurethane material, however, won't chip like stone can. It's incredibly durable and needs no special maintenance. Even better, installation is much quicker and easier than genuine stone would be, making it great for DIY projects. Real stone requires masons to install it.
"We installed the panels ourselves, and it was very easy. No problems," said Lee.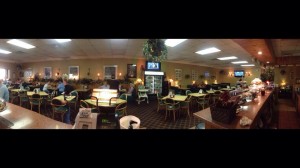 Before the faux stone renovation, Billy Ray's had a boring drop ceiling and plain walls
Short installation times are essential for any business that deals with the public. It's even more crucial for a restaurant because they have to be closed during remodeling and if they're not open, they aren't making any money.
"We wanted to use your panels so it would speed up the time for installation, plus it would be a lot less mess and weight," said Lee.
Billy Ray's complete renovation took a total of six days but Lee said the panels themselves only took about six hours to install. Even better, they were able to save labor costs by doing the work themselves.
"We found you by searching the net and stumbled upon you [FauxPanels.com]. We were so glad we did. Everyone thinks it's real stacked stone. The response has been overwhelming," said Lee.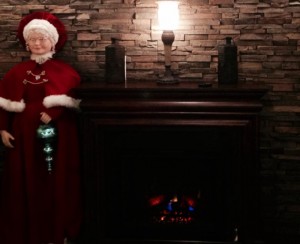 The stacked faux stone panels create an attractive backdrop for Billy Ray's Christmas decorations
Looking at the photographs, you can see why. The faux stone complements the red booths nicely. Even better, it goes very well with the ornate ceiling, creating that perfect blend of timeless traditional and rustic styling.
"We've had so many compliments, many, many people wanted your address and phone number so they can order themselves. To sum it up in a nutshell -- beautiful, high quality, easiest of Install," said Lee.
We appreciate the referrals. If anyone's in the Prestenberg, KY, area, visit Billy Ray's to check out the renovation and have a delicious meal. You'll be glad you did.