Stefan V. from Cleveland, Ohio has become renowned for his impressive brick-laying skills. Little do his fans know that the amazing brick siding on his home is actually made from faux brick panels!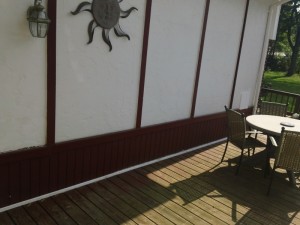 BEFORE: Stefan's siding was drab and unexciting.
Faux Brick Siding Looks as Good as Real Brick
"Everybody admires my bricklayer's skills now," writes Stefan, a FauxPanels.com customer from America's Comeback City.
The funny thing is, the new siding that Stefan installed - which inspires these compliments - is actually made using synthetic brick panels; with no real brick or mortar in sight!
Stefan's siding story began when he grew tired of the original wood siding on the deck of his beautiful red, brick home.
Dated and fading, he wanted to update it - but couldn't find an alternative that matched the distinctive look of his home.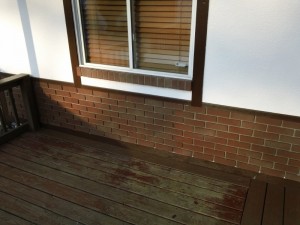 AFTER: Faux brick siding perfectly watches the real brick of Stefan's Cleveland home.
While one option would have been real brick, that would have been prohibitively expensive; and required hours of labor, and possibly even tearing down the existing deck.
It seemed like a compromise between quality and style would have been Stefan's only solution - until he discovered FauxPanels.com.
Stefan quickly found our Carlton Brick Bold Rouge Dusted Panels and Ledgers for sale there - and realized instantly that our faux panels would perfectly match the real brickwork of his home, while still remaining affordable and practical to install.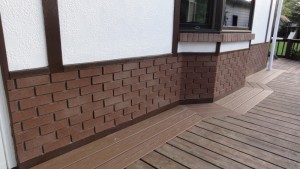 Easy to cut to size, our panels were perfect for adding the look of real brick even to the alcove section of Stefan's deck.
Made from tough and durable polyurethane foam, our panels are molded from real brick walls - so they mimic the texture perfectly.
After being intricately detailed with hues that match authentic brickwork, they're practically indistinguishable from the real thing; yet are light and easy to install, and a fraction of the weight.
To install, all Stefan needed to do was tear down the existing siding and install the panels directly to the wall underneath with regular construction adhesive and screws.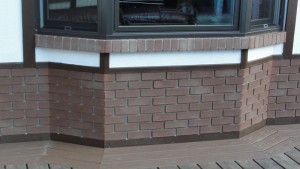 A close-up reveals just how vividly realistic the texture is.
He admits: "the whole job was a breeze, easy and clean." Each of the panels slots together, like a jigsaw puzzle, to ensure an easy and seamless look - and depending on the height of the siding, the panels are easy to trim with a regular wood saw.
"Thank you very much for your amazing product," Stefan says, enclosing before and after pictures for comparison. We're incredibly proud of the great results he's achieved. What do you think?