If you own or manage a clothing store, you understand that presentation is half the battle. Not only do you want those sweaters and tees folded with razor sharp edges, the store's décor itself should serve as a sales-inducing backdrop – inviting and representative of your brand without detracting from the merchandise.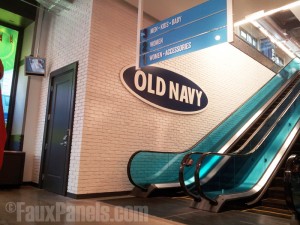 We were pleased to receive these photos from a few major clothing retailers who used faux brick and stone panels to update the look of their stores.
Faux and Fashion Team up for Style
Old Navy's flagship store in San Francisco, CA got a store-wide overhaul by using the Old Chicago Brick panels in Glacier White on their walls and around the supporting columns.
Your white brick panels were a great choice for the remodel at our flagship store. The realism is impressive, they installed quick and they add a great touch to the layout.
This Aéropostale store in Guadalajara, Mexico also used the bestselling Old Chicago Brick panels to set the scene for their fashion offerings. Besides great looks, these panels won't dust like real bricks or require any type of maintenance other than an occasional wipe down – saving you time and money for more inventory!
Tom Morris
, the oldest golf shop in the world located in St Andrews Scotland was recently reopened and re-imagined for the 21st century, selling apparel and accessories for men that emulate the "gentleman's game". The faux fieldstone panels they used worked wonders to complement the store's heritage while bringing it into the modern age.