Retail renovations using products from FauxPanels™ are the perfect solution for store owners who need to spruce up their shop but can't afford to close for a long time to get it done.
Fast and Budget-Friendly Retail Renovations
Old Chicago Brick in Glacier White provides the perfect backdrop for clothing displays
Whether it's an exterior facelift or a little interior redecorating, the panels come in a large variety of styles and colors to suit any kind of retail space. Whether you're looking for classic brick, like Old Navy's flagship store in San Francisco, a drystack stone style like Shakabuku Designs used or the traditional fieldstone style used by Tom Morris, there's a look for your store.
Both the Aéropostale store in Guadalajara, Mexico, and the San Francisco Old Navy store chose Regency Old Chicago brick in Glacier White because it provides a clean backdrop for displaying merchandise. It also imparts a subtle urban vibe that's fitting with both stores' reputations.
The designers behind "Bakery Boss" also used brick panels, choosing the Nailon style in Red Blend. TV makeover shows have a tight production schedule so waiting on a brick mason isn't usually an option.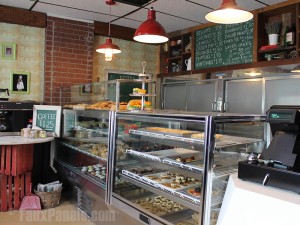 Low-maintenance brick panels reinforced the retro look for a refurbished bakery.
Plus, "Bakery Boss" wanted to give the Friendly Bake Shop in Frankfort, NY, a low-maintenance design (real brick needs to be pointed and cleaned on a regular basis) while also minimizing the time the struggling bakery would be closed. The panels provided the perfect retro look. Even better, faux will never "dust" like genuine brick can.
Shakabuku Designs in Livermore, Calif., wanted a timeless look that would go well with its eclectic clothing designs. They alternated cayenne-painted sections with accent walls created with Wellington Drystack in the Earth color. They also used more panels to edge the raised platform in front of the window.
Shakabuku wasn't just interested in appearance, though. The renovation also had practical aspects, like covering the wall at a counter seating area. Paint would be easily scuffed and dinged by customers' shoes. The panels are made of durable polyurethane, which can easily handle the wear and tear while maintaining their original appearance.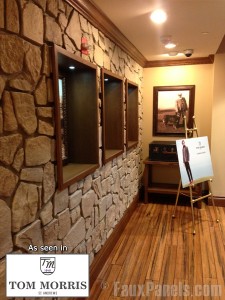 The Tom Morris store added look of fieldstone without the excessive weight
The Tom Morris golf store wanted to evoke its Scottish heritage but using genuine fieldstone would have required reinforcing the wall to hold the stone's weight. Carlton Fieldstone has the same great texture and appearance while only needing a fraction of the installation time.
FAO Schwartz wanted a rugged look for its "Astro Kids" mineral department. They also wanted durability because they know how much traffic they get each year from eager children. The panels were just the trick to stand up to the harsh wear and tear.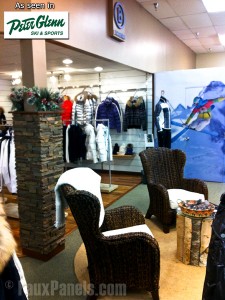 The panels added beautiful texture to the support columns at a Peter Glenn store.
Even a small change can have a big visual impact. Peter Glenn Ski & Sports had a structural support near a seating area. To dress it up, they wrapped the support post in Wellington Drystack Earth, which tied in nicely with the skiing mural nearby.
Considering the lower product and installation costs, durability, low maintenance and easy, fast installation, the panels are a great solution for any retailer renovation.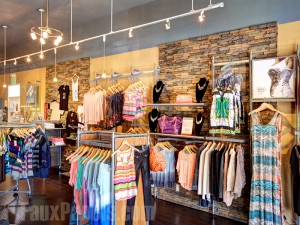 The Drystack style creates visual interest for custom clothing store Shakabuku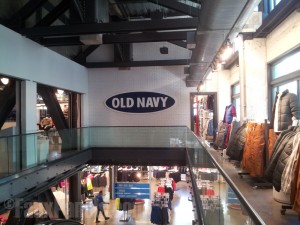 A clean, urban look for Old Navy merchandise