Return customer Jack recently sent us pictures of his fantastic farmhouse style stone fireplace topped off with our Custom Rough Hewn Mantel in Walnut.
This Rough Hewn Mantel goes perfectly with the real stone fireplace.
We love this project because it showcases one of the things that faux wood does best - blend seamlessly with authentic building materials like stone and wood. In this case, adding a real wood mantel to this fireplace would have been pretty difficult - the sheer weight of it would have required major drilling and reinforcing into that gorgeous stone.
Our faux alternative weighs a fraction of real wood, enabling Jack to install it with some minor drilling and screws; yet it still looks incredibly real. Although it's not built to hold extremely weighty objects, it's still usable for displaying pictures and a few decorative accessories.
Rough Hewn is one of our most rugged styles, created in molds of real hand hewn wood; capturing the deep gouges of the chisel that carved the beams from the trunks of towering trees. Our innovative molding process recreates that texture in lightweight but durable polyurethane foam - with a finish that perfectly copies every gouge, grain and knot in vivid detail. We then use one of the most involved painting processes in the industry to add stunningly realistic wood coloring.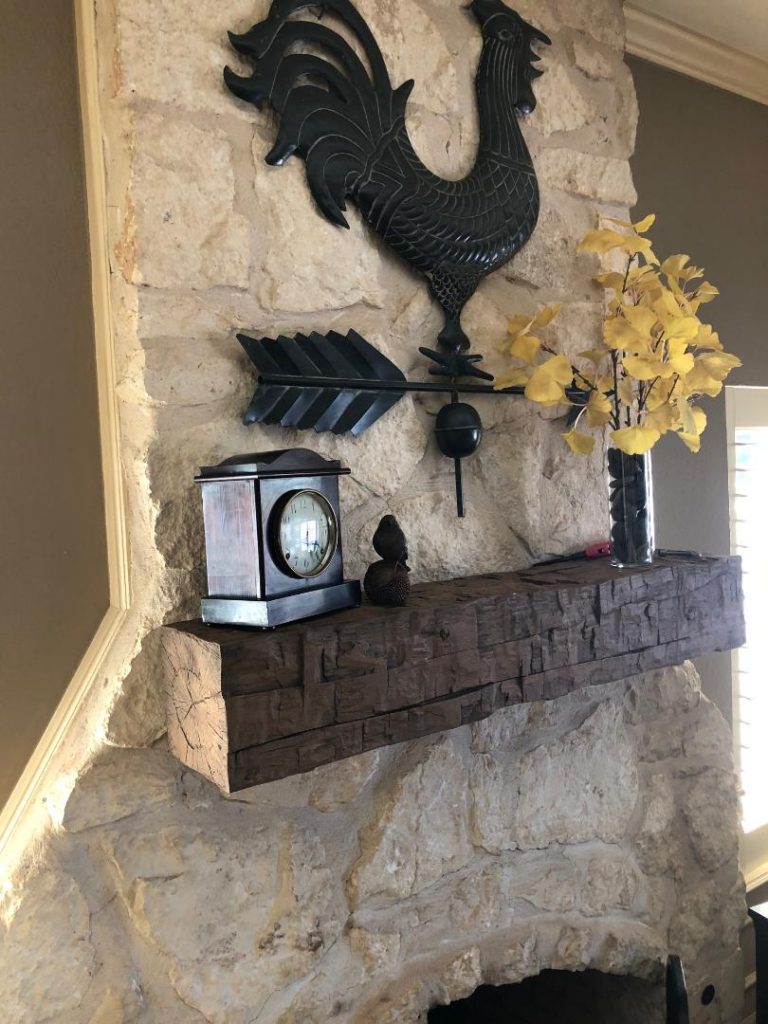 From this angle, you can see the fireplace mantel's realistic wood texture.
The deep texture of the mantel perfectly complements the rustic style of the fireplace; and Jack completed the look by adding a huge brass cockerel sigul to the wall above the mantel. A cockerel is the national animal of France, and adds a farmhouse-style theme to the fireplace.
It's a simple project - but the best projects usually are. We think Jack knocked this one out of the park and we're thrilled to be able to see the results. Thanks for sharing!