How do you improve on perfection? Well, John Fitzergerald, from Naperville, IL, recently sent us an awesome email outlining how he completed his fireplace project, and that comes pretty darn close!
Faux Wood Fireplace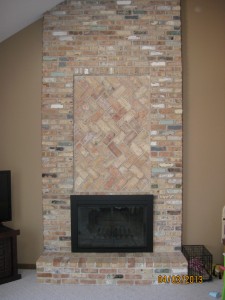 Before: John's stunning brick fireplace was missing just one thing - a mantel.
John Fitzgerald's fireplace is a thing of beauty. One of the signature features of the home he's recently purchased, it's made up of hand-laid bricks and is the instant centerpiece of his front room. But John knew as soon as he saw it that it was missing something.
In his email to us, which included before and after pictures, John writes:
"We'd have been searching and waiting to find the perfect mantel shelf for our new home for some time. When I found Faux Wood Beams, I knew the search was over."
"The fact that you can custom order the size of the mantel shelf to your specific wants and needs is fantastic. We decided on the Tuscany with the walnut finish, and the entire ordering process was simple. The delivery was rather quick, considering this is custom made, and when it arrived I could not wait to put it up!"
"The installation process could not be any easier for any DIY'er. It took three simple steps:"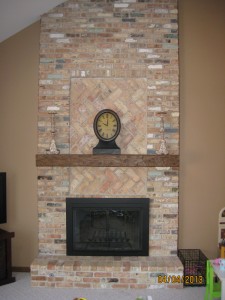 After: The mantel looks stunning; and even though it's molded from durable polyurethane foam, is still totally functional as a shelf.
"First cut down your 2"x4" to fit inside the mantel pocket. Next, figure out the height you want the shelf and attach the 2"x4" to the face of the fireplace with some good concrete anchor screws (I recommend Tapcons). Lastly, put the mantel over the 2"x4" and secure it from the top with some long wood screws. The whole process only takes about half an hour!"
"When I got mine up and stood back I was amazed at how awesome and realistic it looks. Next will be some matching beams for the vaulted ceiling in the same room!"
We agree with John that the finished product looks incredible. We're so glad that our faux wood fireplace mantel was the right fit for him and we can't wait to see pictures of his ceiling beams!