In Gillette, Wyoming, one FauxPanels.com customer wanted to make her home stand out from the crowd. Here's how she did it with fake stone exterior siding.
Fake Stone Exterior Siding Helps Homes Stand Out
Sherry Samuels, from Wyoming, loves the secluded street she lives on - with its quiet neighbors and cute little ranch homes. But while the lifestyle is great, the rows of identical houses don't make for much variety.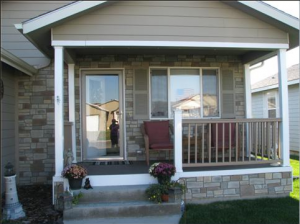 Ledgestone exterior siding added a beautiful new dimension to Sherry's home.
Which is why Sherry decided to make her home stand out from the crowd; with our Carlton Ledgestone Faux Panels. She used them to replace the same-old, cookie-cutter exterior siding that every other house on her block used; and the results look incredible.
"The front of the house looks so terrific," Sherry enthusiastically told us, sending in pictures of her home, and the neighbor's houses for comparison. "I have gotten so many compliments!"
As we discussed before, pre-fab and modular homes make a great match for fake stone panels and the same design aspects that make those properties are shared with the ranches in Sherry's neighborhood.
For instance, Sherry trimmed the panels to line the siding and wainscoting around the base of her porch - easy enough to accomplish as the Carlton panels are molded from durable polyurethane that can easily be cut to size with a standard wood saw.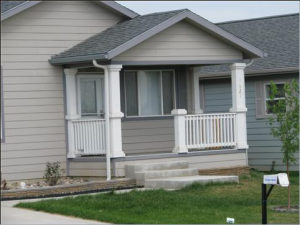 Neighboring houses show what a contrast the new panels make.
The front of the home also features Ledgestone panels – which Sherry trimmed to size to suit the front door and large window. As a final detail, she attached contrasting window panels that finish the look and help give the seamless impression of real stonework siding.
"I've enclosed pictures of other houses in my street. These are my neighbors and the houses shown look just as mine did before I installed the panels."
As a before and after, the pictures show what a dramatic improvement adding the panels made to Sherry's house; and they whetted her appetite for further projects.
"Next spring we may finish and do the front gable," she writes. Hopefully she'll send us pictures!