Cari E., from Connecticut, recently sent us pictures of her great exposed ceiling beams project; completed using our synthetic wood beams. Here's what she told us: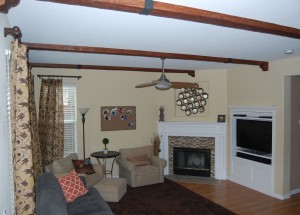 Simulated wood ceiling beams add a great look to this lovely living room.
Exposed Ceiling Beams Home Project
"I recently finished my beam installation," writes Cari, sending us pictures of the completed project. "Super happy with the results! Looks great!"
While we get a lot of awesome photographs from customers, with some truly inventive uses for our faux wood products, we're never tired of seeing our ceiling beams installed in a traditional way - spanning the ceiling of a living room.
Using our beams to recreate the look of exposed ceiling beams might be straightforward; but we consider every completed project that customers send us pictures of as works of art.
In Cari's case, her living room needed something to frame the large expanse of empty white ceiling. Our faux wood beams were a great option because in addition to adding a classic, homestead look to the room, they also matched the gorgeous hardwood floors.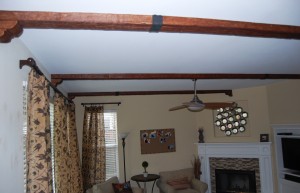 This shot offers us a great close-up of our rubber beam straps in action.
That being said, a couple of challenges presented themselves.
First off, Cari ordered beams that weren't long enough to span the entire ceiling in one go - which is sometimes the right thing to do, as longer beams can be impossible to navigate through the house with.
Secondly, the staircase on the other side of the living room meant the ceiling beams needed to end at the wall, instead of being cut off to look like they carried straight into the plaster (as would happen with real ceiling beams.)
Fortunately, she had great solutions for both issues.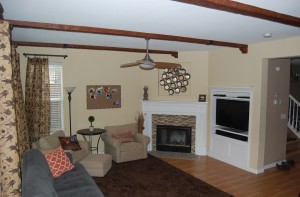 You can see the corbels at the end of each beam, and how they help add a robust look to the design.
When it came to creating the look of a single, seamless beam running across the entire ceiling, Cari used our rubber beam straps as a solution.
One of our best-selling accessories, these are rubber straps molded to look like the solid iron that was once used to brace and support beams.
In addition to adding a period touch, these rubber replicas also perfectly cover up any seam where the end of one faux beam meets the beginning of another.
As for the second issue, there was a similar solution using our faux wood corbels.
In real life, a corbel is a structural detail meant to support the weight of a heavy beam - it's embedded in the wall and supports the beam like a little shelf.
Because our synthetic wooden beams are made from lightweight polyurethane foam, they don't require corbels to support them; but we still offer replica corbels made from the same vividly-realistic artificial wood material because they look so great.
In Cari's case, she could attach the corbel to the beam with a regular wood screw, and then it looked like structural corbels were supporting the ceiling beams; eliminating the issue with the end of the wall.
And the results? Understated, but classic. We're incredibly impressed with Cari's handiwork, and love how she used our accessories to find elegant solutions to common concerns when installing our beams.