Well-built retaining walls are a great way to maintain the natural contours of your landscape, while also helping to prevent the soil erosion that occurs with water runoff. They also allow you to grow creative gardens in the areas they border and on the slopes they protect.
DIY Retaining Wall Projects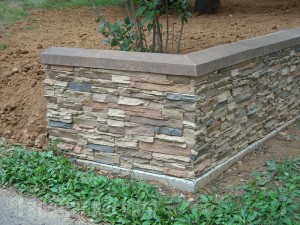 Typically constructed out of materials such as treated wood, railroad ties, interlocking blocks, stones and bricks, retaining walls have the potential to enhance the aesthetic and textural appeal of your yard. But in many cases, they end up doing no more than supporting an embankment and protecting against the downward pressure of soil when water infiltrates it.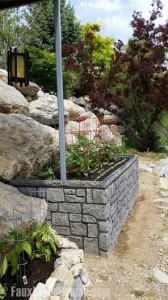 As a result, walls like this can tend to have an unattractive look. While they may be serving a practical purpose, they could also be detracting from the appeal of your property if they have no qualities that differentiate them from the rest.
When trying to solve this problem of a visually unappealing wall, most homeowners never consider the DIY possibility. Most homeowners go the route of hiring a team of professionals, yet this is typically a very expensive way to go.
A landscape architect is usually required, and then once the design of the new wall is formulated, a professional mason then must assemble and install the real stone facing layer. When there is vegetation behind the existing wall, control of water seepage into the core of the wall must also be taken into consideration by the landscape architect, or else the coloration of the natural stone overlay will fade.
In a nutshell, the process of building a retaining wall with a real stone facade is both extremely costly and very time consuming.
For homeowners who already have retaining wall systems installed on their property, and are looking to enhance their visual appeal while keeping to a budget and saving time, there is quite possibly no better way to do so than with faux panels.
Made of a lightweight polyurethane material, they are highly resistant to extremes in weather and extremely durable. Unlike real stone, our panels will even retain their color as time goes by. Easy to install, they also make for a fun DIY project. Once you've completed it, it will look like it was put together by a team of professional stone masons.
Customers of ours have proven that installing panels on their retaining walls is a simple task that produces a satisfying, awe-inspiring result.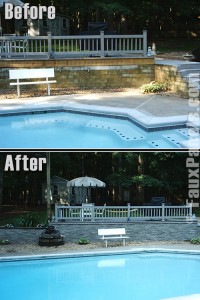 Jane and Jim from Fayetteville, GA sent us the before- and after- pictures of their project, as seen in the photos on the left and right, along with their comment below:
"We are submitting these before and after pictures of a retaining wall in our pool area. We installed gray Nailon panels on the wall and could not be happier with the results. Before application, the retaining wall was unsightly and the paint would repeatedly peel. Now the wall is a centerpiece of beauty and sets off the area complimenting the deck.
The siding was applied as part of our weekend projects and was easy to install. We've had many compliments about how much this has added and improved the area that previously we were at a loss as how to renovate."
To get ideas for similar projects of your own, take a look at our Retaining Wall Design gallery.