A lot of our customers have chosen to make use of FauxPanels to upgrade the look of their kitchens. In particular, many have used them for easy DIY backsplash projects. The panels' remarkably realistic stone look and feel have dramatically improved the appearance of many a homeowner's kitchen.
Easy DIY Backsplashes with a Brick or Stone Look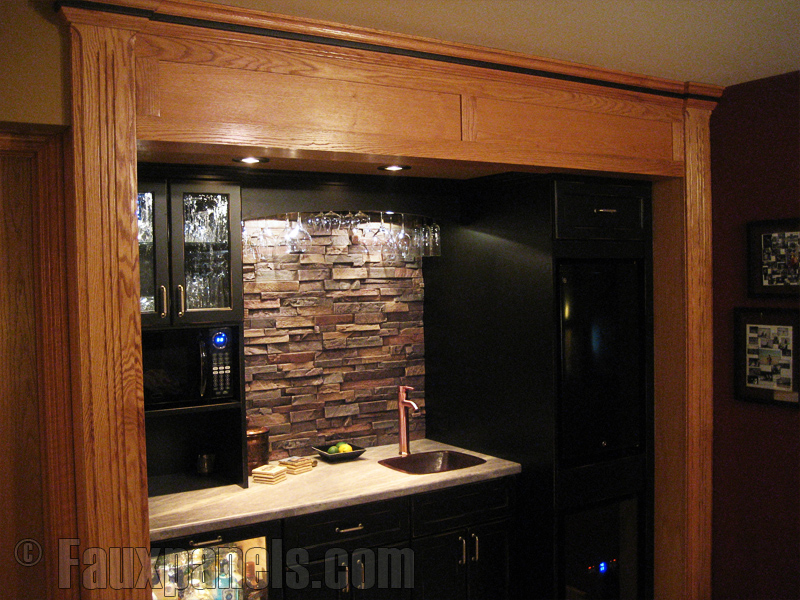 What is a backsplash? It's simply the accented area that's installed in the space between your kitchen counter and the cabinets and ceiling. If done right, it can transform your kitchen into a beautiful and inviting room. As our customers have shown us, one way to build a backsplash easily and affordably is with these types of panels.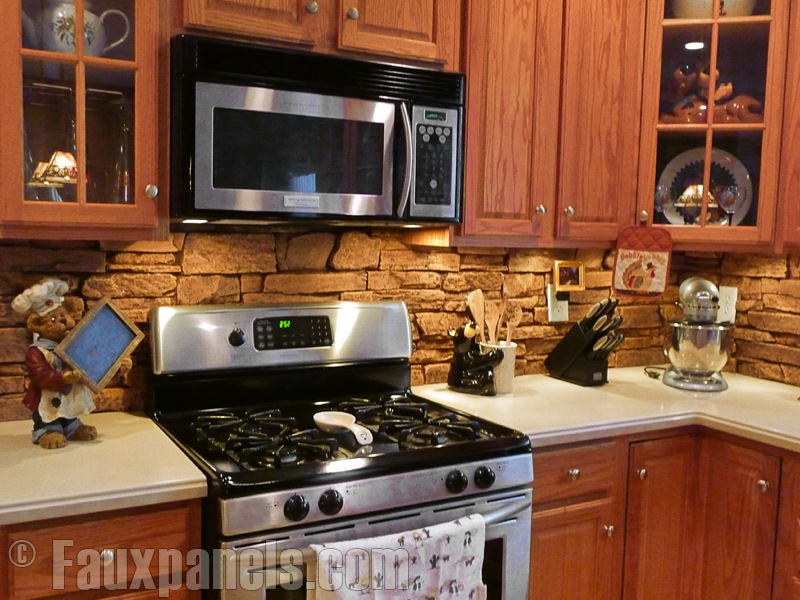 Offering the look and feel of an actual stone wall, they don't require you to do any heavy lifting or dangerous cutting – they just provide a subtle, yet impactful way to create a brand new look. You might be wishing to add a little color to your kitchen design, or doing a complete renovation. Either way, a backsplash may well be the element that makes the difference.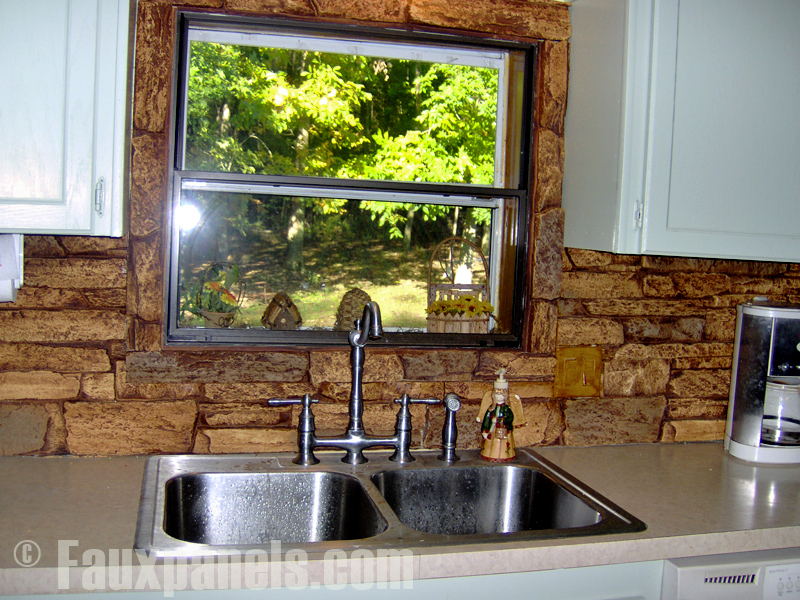 Made of maintenance-free polyurethane, the panels are easy to cut to size with a simple wood saw. Installing them to the wall is a cinch, too. With the glue we provide, the panels can be fastened to walls very quickly. Highly durable and waterproof, they're highly practical in addition to being visually appealing.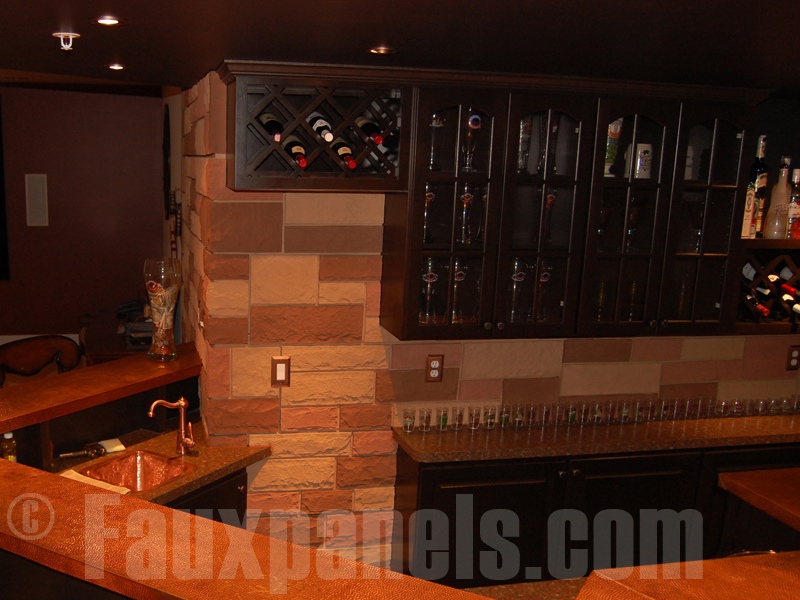 Customers who have created these designs have let us know how pleased they are with the results. Below are a few of their comments, and more pictures of the gorgeous backsplashes created with our panels.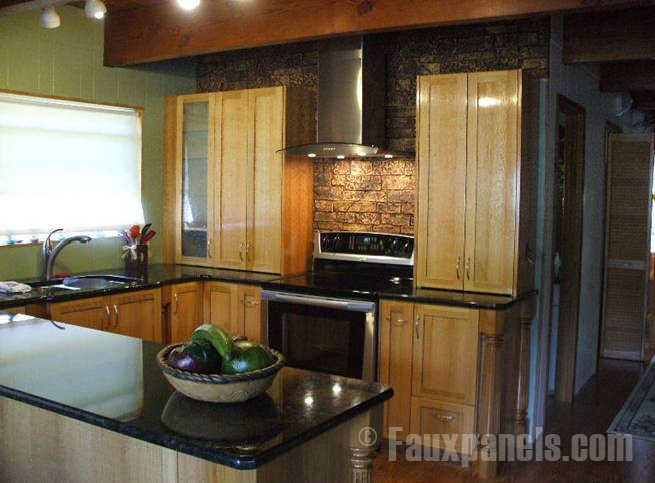 "Enclosed is picture of our kitchen remodel from this past summer which we'd like to submit for possible use in your on-line portfolio. We used your Oxford tan panels and they turned out so beautiful. We've gotten many positive comments on its authentic look. We are now getting ready to re-do our master bedroom and I'm looking at using the panels in there as well."
John B., Stanwood, W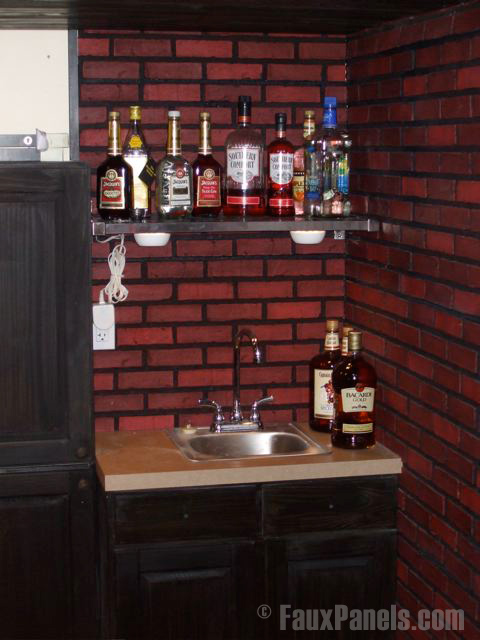 "We ended up choosing the dark red style, I think you can see how great the results were. The panels were installed quickly with the entire project completed in less than 3 hours. I am very happy with the results."
Jason - Reading, PA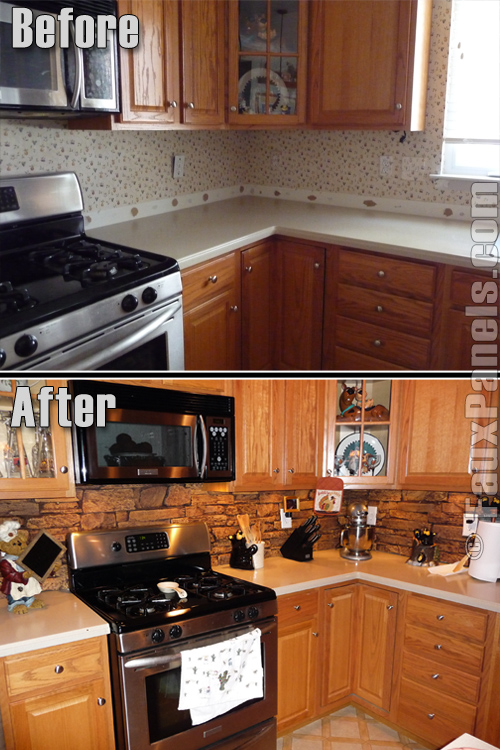 If you're thinking of remodeling your kitchen, and would like to see the enormous difference our panels make, be sure to take a look at our Kitchen Backsplash gallery.