Julie Rabe from Michigan sent us before and after pictures of her DIY fireplace transformation - cladding the dull drywall with the look of real fieldstone. Check out the amazing results!
Fireplace Transformation with Fieldstone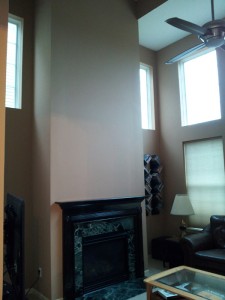 BEFORE: Julie's chimney was functional, but not much to look at.
"We're pretty proud of ourselves," emails Julie, "and your product! Let me know what you think."
Well, we think she did an incredible job!
Using Carlton Fieldstone Tall panels, Julie managed to perfectly recreate the look of a solid, stone chimney right in the heart of her family room - mimicking a rustic design style that's popular throughout America (and tricky to copy when you live in a more modern home.)
The results look incredibly impressive - and demonstrate all the advantages the panels have over real stone or brick.
For a start, the panels are breathtakingly easy to install.
Attaching right to the sheetrock with regular construction adhesive and screws, it took Julie just hours to assemble the new look.
Even if it had been possible to build a real stone version in the middle of her home, it would have taken weeks to complete (and cost tens of thousands of dollars.)
AFTER: Fast transformation! The panels were installed on the fireplace in just a matter of hours
Secondly, the panels are molded out of tough and durable polyurethane; which perfectly mimics the texture of stone, but can be cut to size easily with a regular wood saw. That means Julie didn't need any special equipment to blend the new panels in with the existing decor.
"We used some trim at the ceiling to blend with the crown molding on the other walls," she writes, revealing the secret of the seamless look.
The results of Julie's fireplace transformation are dramatic - but if you think you've got a design that rivals hers, we'd love to know about it. Email us pictures at info@fauxpanels.com - we might even feature you right here!