Back in August, we told you about a stunning scaled-down Faux Panel Tribute the Independence, Ohio firefighters were making to a fallen comrade. Now they've sent us pictures of the finished building - and we're excited to share them!
Honoring a Fallen Firefighter by Donating to Fire House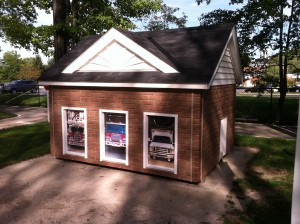 The finished product!
Safety Town, in Independence, Ohio, is a scale-model city designed to help kids learn about road safety on their bikes and big wheels.
Made up of real streets and corners, with working traffic lights and signals, the roads are flanked by miniature buildings made to resemble some of Independence's real-life landmarks.
This year, the firefighters of Independence teamed up to add a scale-sized firehouse to the miniature city; dedicating it to a comrade who'd passed away.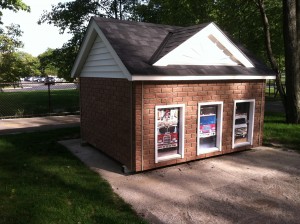 A slate-style roof and accent siding make this miniature firehouse the spitting image of the real Independence, OH fire station,
We were excited to be asked to donate materials to help them complete their project - and provided some of our Nailon faux brick siding for them to give their fun-sized firehouse the same distinctive red-brick facade as the real station.
The advantage of our Nailon siding - and what made it so perfect for this application - is that it installs just like regular vinyl siding, and is made of tough and durable polypropylene that withstands all the elements.
Even better, because our panels are made from molds of real brick - recreating each crack, chip, imperfection and texture - they look every bit as real as authentic brickwork.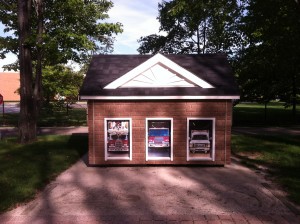 A front view - complete with illustrations of fire trucks to complete the project.
And given how real brick would have been prohibitively expensive to use in this project, it's a great way to ensure the firefighters of Independence were able to put together a Safety Town tribute that truly does their fallen comrade justice.
Given that Independence's firefighters are committed body and soul - in some cases literally - to protecting the people of their city, it's somewhat fitting that this memorial firehouse will be a landmark part of a project to protect generations of kids on Independence's roads and sidewalks.