Remodeling With Girl Power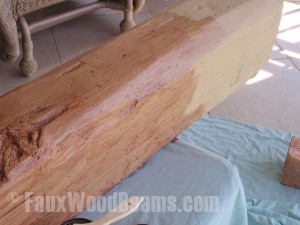 We've been saying for years that our beams and panels can be easily installed without the help of a professional. But, just because we say it's so doesn't make it true (or so skeptical would-be customers think). "Hah!" They scoff. "There's no way it's actually that easy." Well, we hate to disappoint them, but it is.
Recently we've noticed that our Testimonials page, always chock full of happy customers who have installed the beams themselves, has been dominated by women. These ladies, many of them self-professed home improvement newbies, smash all skepticism to smithereens with their newfound hammer skills.
How's that for Girl Power? We are so proud that women who typically shy away from home installation projects feel confident and capable enough to take the reins in their remodeling efforts. Who needs a professional? Who needs a husband?
Power tool First-timer
D. Smith from Humble, TX, designed and cut Tudor trim for the exterior of her home and put together new shutters single-handedly. She wrote to us how she used her experience with sewing to aid with her project:
"I am a 58-year old woman and I never had any experience with carpentry but I have been a hobby seamstress," Ms. Smith wrote. "For this house project I made up some paper patterns and put the patterns on the wood so I would know where to cut and how to put it together."Ms. Smith's husband showed her the basics of using a jigsaw and router, but then she went to town on her own. "I'd never touched [the tools] before in my life," Ms. Smith wrote. And yet she was able to cut intricate lace patterns out of our planks.
No Man, No Problem
Karen wrote to us explaining how as a single woman she was nervous to purchase the beams and install them herself. The simple installation instructions on our website helped to assuage her worries, however. With that confidence boost she is ready to begin her project. Best of luck, Karen, you can do it!
Appearances are Deceiving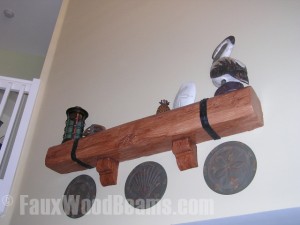 Cathy C. from Fort Pierce, FL added her own creative spin to the installation of a faux wood mantel. She and a friend decided to use it as a shelf on a wall in her entrance alcove, and the women installed it themselves.
Cathy and her friend stained the new mantel and then hung it high on one wall. "Visitors can't quite believe two women installed it," Cathy wrote to us. "It looks so like the real thing and appears to weigh a lot."
To view more project photos, check out our gallery.