Faux Wood Accent Bedroom Wall
FauxPanels.com customer Erin Reeb created this beautiful wood accent wall in her bedroom using her DIY skills and a few faux Reclaimed panels.
Design trends come and go, but one that seems to be sticking around recently is reclaimed wood. Watch any show on HGTV or the DIY Network these days, and you'll see recovered, second-hand wood taking pride-of-place in a bunch of trendy new designs and projects.
On the face of it, there are many reasons why. Reclaimed wood is rich with character and detail, and often comes with a story attached. Some companies, like NY City Slab, actually sell wood reclaimed from specific historic buildings; and recount the story of the wood purchase - so the new owners can tell their friends: "That came from The Princess Hotel in downtown Brooklyn," or "those boards were from the private home of William Wall."
For some people, those bragging rights are priceless - which is why the market for reclaimed wood is booming at the moment. But for the majority of people, the downsides to using reclaimed timber far outweigh the benefits. One such customer is Erin Reeb, from Grove City, Ohio, who wanted to get the look of reclaimed wood for an accent wall in her bedroom, but didn't really want to use the 'real thing.'
Fortunately, FauxPanels.com had a solution for her. One of our most innovative products is the Wellington Reclaimed Barn Board Shiplap panel - an amazing-looking panel that beautifully mimics the look of reclaimed wooden planks, but is made from lightweight and durable polyurethane foam.

Wellington Reclaimed Barn Board Multicolor Shiplap Panel
There are many reasons why Erin chose to 'go faux' rather than source authentic reclaimed wood. One of the most obvious of these reasons is cost.
Reclaimed wood, despite being second-hand (and, for many companies that sell it, essentially 'free' because it's garbage from a demolition site) attracts a significant price hike. The ability to boast about which demolished hotel or historic home your wood was sourced from seems to inspire many people to pay a premium.
Our panels, on the other hand, are remarkably affordable - a fraction of the price of real wood.
The second benefit is consistency.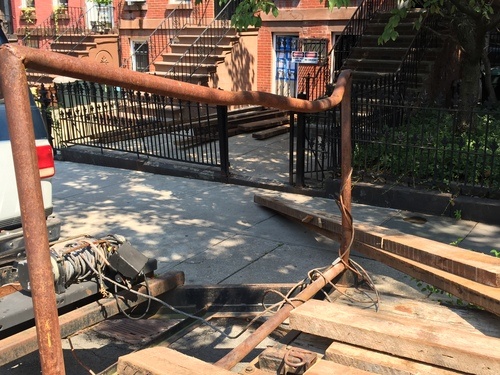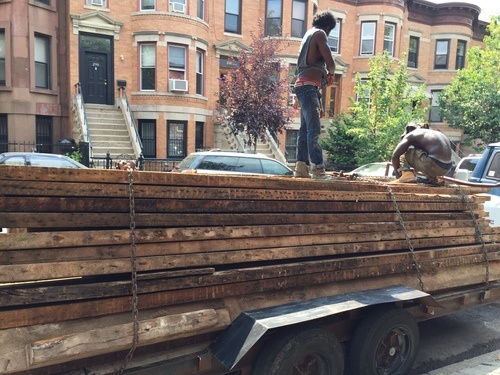 Real 'reclaimed wood' comes from a variety of sources - like these demolition sites in New York City, courtesy of NY City Slab.
One of the reasons reclaimed wood is so popular is because it's rich in character - having been aged over decades or even centuries in its original installation. However, it's difficult to replicate the exact circumstances that give each batch of wood it's individuality - so when one particular source runs out, it's next to impossible to find wood that matches it. In the case of Erin's bedroom - in which she wanted to cover an entire wall in reclaimed barnboard, that presented a real issue.
And finally, there's a more sinister reason why you might not want reclaimed wood in your bedroom - inches from where you sleep:
In recent years, there have been a number of stories in which reclaimed wood was found to bring more into somebody's home than period character and rustic style. In some cases, the wood that was sourced ended up being infested with termites. In other stories, reclaimed wood was found to contain hazardous mold spores. Reports have also come in about wood taken from demolished factories being infused with hazardous chemicals, and floorboards from old warehouses containing pesticides and other toxic materials that had soaked in after years of spills.
When Erin heard about stories like these, obviously she didn't want any of this potentially hazardous material in her home - let alone at the head of her bed! So faux seemed a far safer option!
In fact, from an environmental point-of-view, the benefits of our panels extend beyond even hazardous risks like spills and toxins. Even 'safe' reclaimed wood - treated with cleansing chemicals and varnish to ensure it doesn't contain mold, insects or toxic residue - still releases VOCs, or volatile organic compounds, which can cause many adverse health affects like allergies, lung irritation and headaches. Somewhat ironically, reclaimed wood that's recently been varnished or treated to be 'safer' is often the worst offender in this regard; as many of these 'treatments' will release these compounds for weeks or months after application.
Our faux wood panels, on the other hand, are made from a closed-cell polymer; which means they're 100% free of VOCs and perfectly safe to install in your home. In addition, the closed-cell polymer means that the panels are impervious to mold, rot, damp and insects and can't absorb any spills - meaning they'll remain a safe addition to any interior design project.
It's advantages like these which speak for themselves - and demonstrate how there are many reasons for 'going faux' beyond just saving money. Even better; despite Erin going for the synthetic alternative, you'd never be able to tell by looking at her completed accent wall. The end result is stunning!